This is to Certify that
John Q. Pridger
is a member in good standing
THE ILLINOIS STATE MILITIA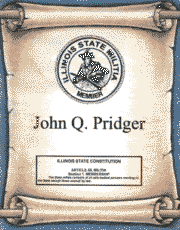 ---
You probably think Pridger is about to introduce you to a right-wing militia group in hopes of gaining a new recruit. Nope. But if you are an able-bodied resident of the State of Illinois, not exempt by law, you may be surprised to find that you are already a member of the Illinois State Militia whether you like it or not.

---
ILLINOIS STATE CONSTITUTION

ARTICLE XII
Militia

Section 1. MEMBERSHIP

The State militia consists of all able-bodied persons residing in the State except those exempted by law.

---
ARTICLE I, Section 22
(The State "Bill of Rights)
Subject only to the police power, the right of the individual citizen to deep and bear arms shall not be infringed.
---
IN SPITE OF THE ABOVE, ILLINOIS RESIDENTS HAVE EFFECTIVELY BEEN DEPRIVED OF THEIR SECOND AMENDMENT RIGHTS — THAT IS, UNLESS THEY POSSESS A FIREARMS OWNER'S IDENTIFICATION CARD ISSUED BY THE ILLINOIS STATE POLICE. WITHOUT THE CARD, ILLINOIS LAW CLAIMS WE HAVE NO GUN RIGHTS AT ALL. SUCH A PERSON WHO POSSESSES A FIREARM IS DEFINED AS A FELON. THE "FOID" ONLY COSTS $5.00, AND IS AVAILABLE TO ALL LAW ABIDING CITIZENS — SO WHAT'S WRONG WITH THAT?
SIMPLY THAT THE SECOND AMENDMENT OF THE UNITED STATES CONSTITUTION READS:
"...THE RIGHT OF THE PEOPLE TO KEEP AND BEAR ARMS, SHALL NOT BE INFRINGED."
WHAT PART OF "SHALL NOT BE INFRINGED" DO ILLINOIS LEGISLATORS NOT UNDERSTAND? STATES CANNOT LEGALLY CHARGE MONEY FOR FEDERALLY GUARANTEED RIGHTS! THE VERY IDEA IS TOTALLY ABSURD. BUT THEY DO — AND THEY ARE GETTING AWAY WITH IT (AT LEAST AMONG "LAW ABIDING" CITIZENS). THE FOID REQUIREMENT IS CLEARLY IN VIOLATION OF THE FEDERAL CONSTITUTION BY INFRINGING ON A RIGHT. ILLINOIS STATUTES ALSO PERMIT LOCAL GOVERNMENTS TO TOTALLY NEGATE GUN RIGHTS WITHIN THEIR JURISDICTIONS — CONDONING LOCAL VIOLATIONS OF THE FEDERAL CONSTITUTION.

SEE SUBJECT TO THE POLICE POWER
Commentary, by John Q. Pridger

---
Complete text of the Illinois Constitution
---
NOTE: Pridger has received e-mail requests to join "his" militia. He's flattered, but must admit he has no militia. Pridger is a resident of Illinois, and the Illinois Constitution happens to state that able-bodied residents are members of the state militia. As a "Cyber-Person" he may even be exempt by law without even knowing it. That, in any case, is Pridger's only claim to militia membership, other than membership in the vast unorganized militia—that slumbering giant (known as the American People), to which we all belong for better or worse.
---
Pridger's Comments on gun control and the militia movement
Return to Top of page.


Pridger - Militiaman

---
Return to Pridger's Index.
---
Copyright © 1997 PRR Publishing. Last updated 18 May, 1997.