The man who became the celebrated "grand old man of Pacific yachting," started life high and dry on the Texas plains, hundreds of miles from the nearest salt water. Born on March 7, 1886, in the farming community of Bonham, north-northeast of Dallas near the Oklahoma border, Hugh came into the world as Hugh Morgan.
An unsubstantiated rumor has it that he was a descendant of Sir Henry Morgan, the 17th century buccaneer. While this may be doubtful, he does seem to have been born with sea and sail in his genes, and would eventually loom as large as Texas in the yachting and boat building communities in the environs of Los Angeles, California.
Though nothing seems to be known of Hugh's father, his mother was Cora Mae Morgan. Apparently growing tired of the Texas farmlands, she decided to seek a new life on the west coast. With six year old Hugh in tow, she pulled up stakes and moved to Los Angeles. It wasn't long after their arrival that Cora met and married Eugene Angelman, and mother and son acquired a new last name.
As with many who become legends in their own time, some myths developed around Hugh's image. One conveyed a mythical origin to his last name. Probably as the result of jest, the story has circulated that Hugh, an "orphan" from Texas, took the name Angelman from the City of Angels that became his adopted home.
It wasn't long after his arrival in that city, that the sea and boats began casting their spell over Hugh. Apparently he had an ambition to build boats very early in life. Being a sufficiently studious lad, at the age of eight he discovered the local library. The very first book he borrowed was entitled Elements of Boat Building.
The story, which he must have later told on himself, has it that (not yet knowing the proper way to check a book out), he simply tucked it under his arm and exited with it through an open window.
True to what seemed his destiny, Hugh found his first jobs in the boatyards around the Los Angeles harbor area, and served an apprenticeship at the Marine Equipment Company.
Of course, he became an avid and accomplished sailor early, crewing on racing yachts (and probably any other kind of yacht), at every opportunity. Racing sail remained one of Hugh's passions throughout his life, and many of the boats he later designed and built were designed with the hope they would be successful racers, and many of them were.
Once, in the early 1920s, when seeking a race for one of his creations, Angelman is reputed to have said, "We'll race 'em for money, marbles, or chalk".
Along with his racing, coastal cruising, and building of yachts, Hugh became a prime mover in Los Angeles' growing yachting community. In addition to being one of the founders of the Los Angeles Yacht Club, he became a member of the Catalina Island and Portuguese Bend Yacht Clubs.
Hugh met Leslie Griffin, his bride to be, when he was 19 years of age in 1905 and she only 15. Leslie shared Hugh's love of sailing and they explored the coast of southern California together in whatever sail boats Hugh could find to sail in.
Connie Luffkin, in an article on the "Residential History of Portuguese Bend, Rancho Palos Verdes, Los Angeles" mentions Hugh briefly:
"In 1905, a yachtsman, Hugh Angleman, sailed into Portuguese Bend with his bride, to show her an area he felt was unmatched for its wild beauty and was otherwise inaccessible except by a 7-mile trail from Point Fermin. She never forgot the experience, and returned years later to make it her home." (http://www.geocities.com/pbchost/History/history.htm).
The marriage took place in 1907, and eventually produced three children, one of whom, a boy, died in infancy. The other two were daughters, Ida and Mae.
Due to Ida's frail health, Hugh moved his family inland where he went to work in a glass factory, and it was in the field of stained glass that Hugh established his first business – making and installing windows in churches. But glass was not Hugh Angelman's forte, and the business soon went bankrupt.
After that business failure, the Angelmans returned to the coast and Hugh resumed work and study at various boat yards, rising to the position of foreman by the end of the First World War.
In 1919, Hugh and a friend, Willard Buchanan, teamed up and built a boat on the Los Angeles waterfront. This successful project attracted the attention of a wealthy man named Tom Smith. Tom liked what he saw well enough to advance them the money to build a boat for him. Not only did Hugh and Willard build the boat in a surprisingly short time, they built two of them! Smith took one, the "Little Warrior," and the other, "Deep Water" became the Angelman family boat.
Smith was so impressed with Hugh and Willard's accomplishment that he provided them with the financial backing to launch Wilmington Boat Works in 1920. And thus began the career that would produce an impressive array of some of the finest sail and power boats ever built.

By 1922, "Wilbo" (as the yard became informally known), had been successful enough to requiring more room, and it moved to its final location on the Wilmington waterfront East Basin. Under Smith's direction, Angelman and his crew built two houses on the property, one for Smith, and one for Hugh and his family.
While Hugh was becoming a master boat builder, he developed his natural boat designing talents – and though he built an array of boats designed by other famous designers of the day, his own designs became the most famous of all. Over the years, the list of Angelman designs grew to an impressive length, of both power and sail vessels of all types and sizes.
Angelman designed and built a yard office in the form of a sailing ship's great cabin, and this unique "office," which had a fully outfitted galley, became a waterfront institution in itself. Friday evening gatherings at the Wilbo office – for business, camaraderie, and a good meal – became a tradition. Tom Smith himself served as chef, and the "ship room" hosted an array of guests that included the worthy yachting and boat yard fraternity, along with occasional Hollywood celebrities.
The Hollywood connection contributed to Wilbo landing the job of building the 36 foot replica of the HMS Bounty, for the 1935 movie, Mutiny on the Bounty, staring Charles Laughton and Clark Gable.
The Wilbo crew worked feverishly around the clock to complete the project in only three weeks, and were later appalled to watch it burn to the waterline in the movie.
Hollywood celebrities became some of Wilbo's most notable customers, and Spencer Tracy, Dick Powell, John Wayne, Ernest K. Gann were among the movie luminaries to have boats built by Hugh at Wilbo.
Hugh Angleman's reputation and professional success, of course, owed a lot to his business partners, several design assistants, and skilled and dedicated workers. He was skilled at choosing the right people for the job, and many unsung helping hands quietly contributed to both the success of the yard and the Angelman phenomena.
Most outstanding among them were Willard Buchanan, Vic Ward, Nick Potter, Harry and Bob Carlson, Dave Lee, Merle Davis, and Charles Davies – designers, loftsmen, patternmakers, and shipwrights – to name only the most prominent. Perhaps the most recognized of all was Angelman's protιgι, and most prominent long-time design partner, Charles Davies.
Though a success from the beginning, Wilbo experienced its share of business ups and downs during its long history. It prospered, fell on hard times, and prospered again, producing fine sail and power yachts of every step of the way. Lacking orders, there was usually at least one boat being built on speculation to provide work for the men. They never failed to sell, and sometimes got the yard out of a financial bind.
During Prohibition, fast motorboats were in demand. Law enforcement required fast boats to overtake the bootleggers, and the bootleggers needed fast boats to outrun the revenuers. And Wilbo was pleased to satisfy the demands of both markets.
In 1937 Hugh designed what many consider the crown jewel of his career – the 35 foot, gaff rigged auxiliary ketch, Sea Witch. He designed and built it for himself with an eye toward safety, comfort, and the romantic tradition of the great clipper era – almost undoubtedly naming it for the famous China tea clipper of that name. She was completed in 1939, but it caught the eye of an eager buyer and Hugh let the Sea Witch slip from his grasp.
Realizing his loss, Hugh built another exactly like it – the Sea Rover – which was completed in 1941, just before the Navy came knocking at the beginning of World War II. The Sea Rover remained the Angelman boat for over two decades, until Hugh was forced by old age to retire from active boating.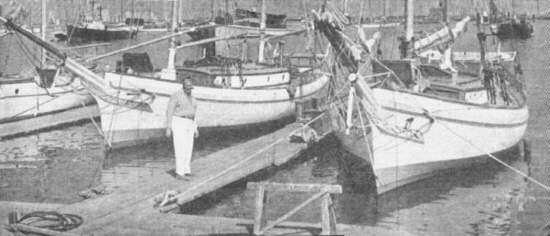 Left to right: Sea Rover, Hugh Angelman, and Sea Witch (circa 1941)2
During the Second World War, Wilbo was requisitioned by the Navy Department for the duration, a circumstance that Hugh hardly relished. Hugh helped design, and the yard built, FT boats, minesweepers, and sub chasers throughout the war years.
Hugh had gained the reputation of being one of the finest designers and builders of the times, and in spite of his dislike for Navy work (or perhaps, because of it), he was "chosen by his fellow West Coast shipbuilders as their arbitration representative to the United States Government."
Though he was quite willing to do his patriotic duty, being under the managerial control of naval brass and government bureaucrats seems to have entailed more headaches and frustrations than rewards. At one point he sent a letter to a friend expressing some of his frustrations. A single paragraph just about sums it up:
We are building the ship with a deck load of Gold Braid, a bottom planked with creditors and a cargo of confusion. However, we walk the quarterdeck with a determined stride and steer a straight course, although the compass goes around with the sun. It seems a long and devious route must be sailed before we fetch up in Catalina Harbor, so we are carrying on.

Untiringly yours,

Hugh
The Mudflat Philosopher
In 1945 Hugh turned management of Wilmington Boat Works over to his former son-in-law Bob Carlson (who had married, and later divorced, his daughter Mae). Though divorced from Mae, Hugh continued to look upon Bob as a son. At about the same time he sold his interest in the business to William L. Horton, and finally retired from active boat building, though he remained closely associated with the yard, more or less in the capacity of a consultant. He often visited Wilbo to inspect the progress of Angelman designs the yard continued to build.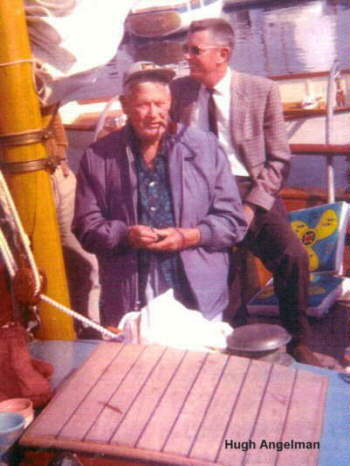 Hugh with unidentified friend on Sea Rover3

In 1949, along with some other long-time associates, Angelman was persuaded to go to work for the South Coast Company in Newport Beach. Among other things, Hugh was a prime mover in the construction of a replica of another old-time sailing ship there – and it was at South Coast, in April of 1950, that "Moonbeam" was launched. Moonbeam was considered an updated Sea Witch – but without most of those bewitching charms. Later, in the 50's, Hugh joined Charles Davies in his boat surveying business, and the two of them sold plans for some of their most popular designs.
The years 1949 and 1951 brought considerable acclaim to Angelman's Sea Witch design. The beamy, gaff-rigged, Sea Witch surprised a lot of people by placing admirably well in the Transpac race from California to Honolulu in those years. In fact, it won the 1951 race on corrected time, and the design received considerable attention in the print media as a result – and the design enjoys an enduring popularity, though it has been many years since the last Sea Witch was launched.
After the war, Hugh had finally designed and built Leslie's dream home in Portuguese Bend – the place they had first admired some four decades earlier, when Hugh had sailed into the cove with Leslie. As an integral part of the house, he built another "ship room" in the tradition of the Wilbo yard office.
Unfortunately, within a few years, the Portuguese Bend home fell victim to the Pacific Coast's propensity toward earth quakes and land-slides, and they were forced to leave their dream home and move to an apartment.
Apartment life just wasn't their style, however, and when they had experienced a little too much of it, Hugh and Leslie moved aboard their yacht, Sea Rover, and it became their home for the next several years.

ABOVE4: The young sailor, probably about 1905.
RIGHT5: Hugh with Leslie on the Sea Rover, about 1960. Almost always seen with his pipe, Hugh came to be called "Pappy" during his years at Wilmington Boat Works.
By 1963, however, with Hugh at seventy-seven years of age, and life aboard Sea Rover probably becoming a little difficult for them, they again moved ashore.
This time they joined their daughter, Ida, at her home in Naples, California. The Angelmans sold the Sea Rover, but Hugh built another "ship room" at Ida's home – complete with bunks, chart drawers, and a mast between floor and ceiling – so they could truly feel at home.
Hugh died in 1967 at the age of 81 – after a long and fruitful career, and a legend in his own time. Shortly before he passed away, the grand old man of Pacific yachting told his daughter Ida, "I still have lots of boats inside my head."
Hugh Angelman's legacy lives on as many of the boats he designed continue to sail the seven seas. Angelman yachts remain the prized possessions of many proud owners – prized for their comfort, continuing durability, and their timeless enduring beauty. To own "an Angelman" yacht is to be in a class apart.
W. R. Carr
Nov., 2006
---
Source References
"The Grand Old Man of Pacific Yachting, the Enduring West Coast Legacy of Hugh Angelman" by Robby Coleman with Thomas G. Skahill, and "Pure Sea Witch" by Robby Coleman – WoodenBoat, No. 147, Mar/Apr 1999
"South Coast Company – The life of a full-service yacht yard," by Thomas G. Skahill. (WoodenBoat, No. 193, Nov/Dec 2006)
The "Residential History of Portuguese Bend, Rancho Palos Verdes, Los Angeles," by Connie Luffkin. (http://www.geocities.com/pbchost/History/history.htm)
A short biographical sketch posted on the Naples (Florida) Sailing & Yacht Club website: http://ouryachtclub.memfirstweb.net/Club/Scripts/Home/home.asp
Photo credits: (1) Angelman on Sea Witch, contributed by Stephen Carlson. (2) Angelman standing between Sea Rover and Sea Witch, courtesy of Thomas G. Skahill. (3) Angelman with unidentified friend on Sea Rover, contributed by Stephen Carlson. (4) Angelman as a young sailor, courtesy of Thomas G. Skahill. (5) Hugh and Leslie on the Sea Rover, courtesy of George Hylkema. Photos 2, 4 and 5 appeared with Robby Coleman and Thomas G. Skahill's article in WoodenBoat, No. 147, Mar/Apr 1999.
---