The Golden Hind is a genuine "Wilbo." She was the very last Sea Witch to be built at Wilmington Boat Works, and her first owner was Hugh Angelman's son-in-law, Robert Carlson. Woops!

In late August, 2010 we were contacted by Catherine Reed and found that some of the things we knew about Golden Hind's early genealogy was way out in left field! The Golden Hind was built by Catherine's father, Robert Williams Reed, and was not built at Wilbo, but at a small boat yard in Gardena, California.

As you can see, Robert Reed built a Sea-Witch-Plus! Originally she was replete with a finely crafted figurehead, and she has a centered propeller shaft – a rare improvement on the original design. In addition to her informative email, Catherine has sent us images of the original Coast Guard number registration document, a letter from the second owner after his first sail in the Golden Hind, and several photos.

See Catherine's letter and other contributions below.

John Eddyblouin is the present owner and took on the task of putting her back into shipshape. John is a shipwright, and works for the oldest wooden boat shipyard on the east coast. But that didn't save him from some anxious moments when it came to trucking her around time (see his photos below). In July of 2010 we heard from John's wife, Allison who said she and John had decided to put Golden Hind on the market. But we've heard nothing further since that time.



In February of 2010 we heard from Roger Marlin, a previous Golden Hind owner. Roger has provided some great photos as well as some rather interesting auxiliary information about the Golden Hind. He writes:

I enjoy your Sea Witch site. I owned Golden Hind for twelve years and sailed her off the California Coast. I made one or two trips a year from my home in Morro Bay to the Channel Islands, usually starting in a direct line from MB to San Miguel and onward down to Catalina in the spring and summers. I have attached some photos of Golden Hind if you would like to post them.

...Golden Hind was a beautiful vessel. I have always regretted selling her. I have had several vessels over the years; Melita, a Tahiti Ketch that I built in Bob Sloan's yard in the early '70s, Faith, a 42' Chappell Schooner, Typee, 47' Abeking & Rasmussen Yawl, Sea Babe, a 23' Angelman, and Golden Hind, my favorite. Running her up and down the "Cape Horn of the Pacific" Pt Conception to Arguello, and out to the outer Channel Islands, year after year, she was an amazing vessel when the conditions picked up. It was a sad story after I sold her. A New York Stock Broker bought her and had her trucked across the country and things went downhill from there...
While I owned Golden Hind... awhile prior to removing her mast, I had discussed with Charlie the possibility of rigging her as a schooner. Charlie had done a design modification for someone else as a schooner... Having owned a schooner and at onetime part owner and skipper of another schooner, Kelpie, I loved the handling and sailing characteristics of schooners. The problem with the Sea Witch design was reconfiguring the galley to accommodate her with the new location of the mainmast. In a discussion I had with Charlie, he felt that the Sea Witch would make a good schooner, however as intriguing as it was, in the end I decided to keep her as a ketch.

Other trivia: Golden Hind was owned by Bob and Norma Graham in the early sixties. I found this out when I had her docked in the back marina in Morro Bay. People would come by and tell me that the Graham's kept Golden Hind there until leaving for the South Pacific with their son Robin. He is the boy that circumnavigated in Dove in the late sixties. A couple of books were written by him plus two issues of National Geographic Magazine documented his circumnavigation. The second chapter in one of his books is entitled Golden Hind.
Best regards, Roger Marlin
---
CATHERINE REED SETS US RIGHT ON GOLDEN HIND'S GENESIS
August 27, 2010
Hello,
I just had a great time reviewing your website about the Golden Hind. I think I have some information that you will find of interest. Your site states the builder of the Golden Hind as Wilmington Boat Works, this is incorrect. The plans for the Golden Hind were purchased from Wilmington Boat Works, however the boat was built by my father, Robert Williams Reed. My Dad built this boat in a small boat yard in Gardena, California. The keel was poured in 1956, and the Coast Guard Certificate of Award of numbers was issued in June of 1959. My Dad sold the boat in 1962 to Lyle Graham of Morro Bay. I have attached the Coast Guard Certificate, as well as a letter from Lyle Graham to my father, after his first sail on the Golden Hind. The final attachment is a picture of the Golden Hind that my Dad had on his desk till he died in 2005...
Thank you for honoring this boat as you have, my Dad's dream was to build her. The story in a nut shell was that my Mom (Jane Cox Reed) and Dad had a daughter that died at three weeks old in 1955. They determined that they would not be able to have anymore children, so my Dad told my Mom that he wanted to build a boat, and since they were not going to have any kids, that this would be a dream that he wanted to realize. In 1956 he started building the Golden Hind, my mom got pregnant while he was building the boat, I was born in 1957 and my brother was born in 1958. When my Dad set the masts on the boat, there was a silver dollar under each mast, one with the year 1915 (my father's birth year) and the mizzen mast had a 1921 silver dollar (my mother's birth year). I suspect that the masts have been replaced over the years and the silver dollars are gone now.
...I am sure my Dad would be immensely proud of how you have honored the Golden Hind. My Mother is still alive and has many Golden Hind stories that I have asked for her to write down.
Thank you
Catherine Reed
Portland, Oregon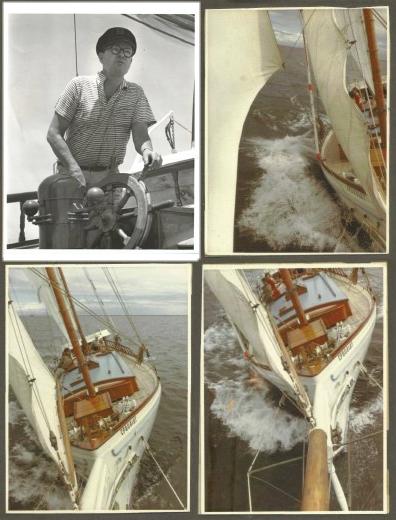 Upper left, builder and first owner, Robert W. Reed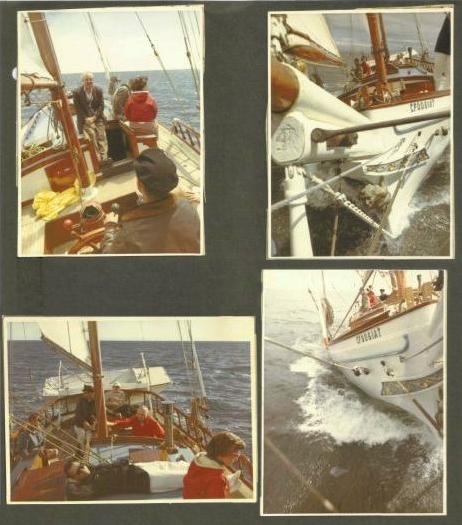 "Under full sail," off the California coast, 1961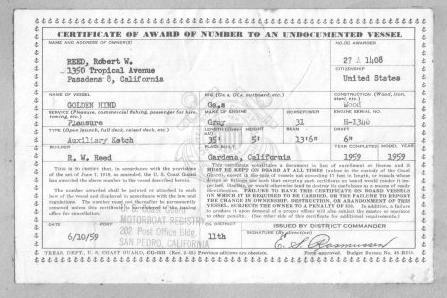 A letter from Lyle Graham to Bob Reed,
after Lyle's first sail on the Golden Hind.