With the success of the Sea Witch design, Hugh Angelman and Charles Davies (and other Angelman WILBO associates), designed several smaller vessels for lower end cruising markets. Among them were the "Sea Spirit," "Husky," the "Alpha-30," and the "Sea Babe." There is also a boat named the "Wavelet." The "Moonbeam" was about the same size as Sea Witch, and the "Mayflower" took the Sea Witch idea to a whole new level.
It can be seen from the photograph above that the Sea Spirit, design retained a great deal of the charm of the larger Sea Witch, and she is almost as large and roomy, with a LOA of 34', LWL 30', Beam 11' 2", and Draft of 5' 2". Her displacement is 21,000 Lbs. and she carries 5,200 Lbs. of ballast. Lobo de Mar is an Angelman/Ward design.
It seems that there may be variations (with different co-designers), that go under the general subheading of "Sea Spirit."

The Husky – "go-anywhere" Pacific Coast ketch. "He-man ability... but 'she' grace and charm" is how Husky is described in the advisement shown below (clipped from the November, 1957 issue of The Rudder magazine). Husky's measurements were 30' LOA, 11' beam, and 4'-8" draft.

Of significant note, the Mayflower, was the next step beyond Sea Witch when it comes to "traditional sail." She was a larger vessel, designed for more affluent traditional "ship" lovers. She was 40 foot on deck, and only had about five inches more beam than Sea Witch, but she has the appearance of a full grown ship, compete with square sails and the luxury of great cabin aft.
---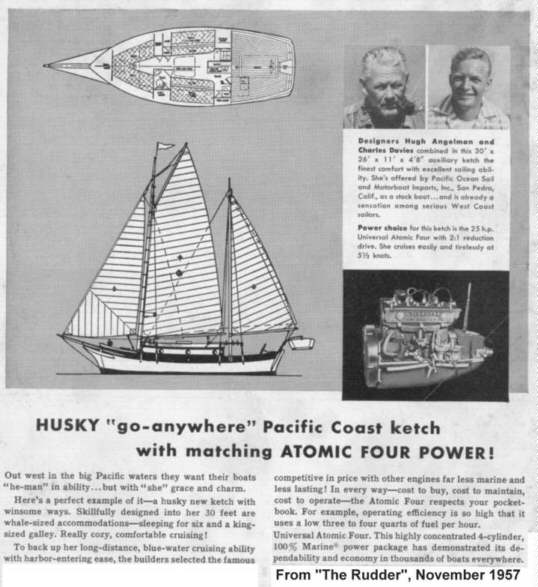 ---
ALPHA-30

We don't know much about the Alpha-30, nor the name of the vessel shown here. Presumably, she is about 30' on deck.
Roger Marlin, a former owner of the Sea Witch, "Golden Hind," contributed these photos of the Sea Babe, which he also owned. The Sea Babe was a design unto herself, and was built in Hong Kong in 1961, as one of a kind. Roger tells us:

"I repowered her with a three cylinder Universal Diesel. She actually had an enclosed head and full headroom throughout down below. Quite a feat for a boat with a 23' waterline. She was a real great boat at sea also. A real tribute to Hugh Angelman and Charlie Davies..."
"...Sea Babe was a standalone design and only one was built... They had the only one built by American Marine. The construction cost was too high to pencil out for Hugh and Charlie. She was a little tender in the beginning and Charlie designed in some additional ballast. She had many of the same features as the Sea Witch, including outside on deck loading ice box with inside opening icebox located in the galley. The current owner lives onboard in San Diego...
"She is actually a very comfortable vessel, easily single handed. I sailed her up and down the California coast on my own. I had her in very heavy weather on two occasions, both times off Conception, and was very impressed."

---

SEA BABE PLANS!!

In August of 2013, Roger Marlin located his copy of the Sea Babe's plans, and has generously provided us with images of the three sheets that he has. Thank you Roger!

More details about the design from Roger: "The history I know is that Sea Babe was under-ballasted and very tender when she was built.
"They considered options including shortening the rig, thus the marked up plans. The rig was never changed. They added about 350 pounds of ballast that was bolted to the sides of the outside lead ballast, and additional lead ballast added inside. That solved the problem with the original rig.
"While I had Sea Babe I made patterns that fit between the floor timbers and had the inside ballast cast to fit nicely between the floors on top of the keelson. The bilges were deep (and dry) and this allowed for extra storage. She had no problem with the size of the rig. I had her in some good weather going to the Channel Islands and back on many occasions from Morro Bay, and she stood up to it very well.


"American Marine built Sea Babe with the idea of producing more, however due to the high cost of construction they decided not to build any additional boats. I bought Sea Babe from a good friend, Robert Dorris in Newport Beach. He was a naval architect and designed many of the boats for American Marine."

The plans are dated 1945, though Sea Babe wasn't built for another sixteen years.



Lines


Sail Plan



Layout/Construction


.PDF downloads
WAVELET


The Wavelet is only 21' on deck, complete with all the Sea Witch enchantments, including taff rail and a figurehead - but sloop rigged.
MOONBEAM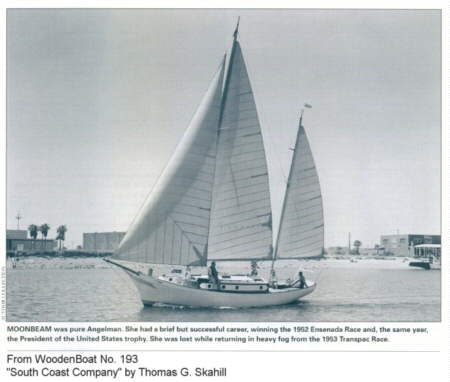 Moonbeam might be called a "de-witched Sea Witch." She obviously has a lot of Sea Witch in her, but without the most enchanting features. Her measurements were about the same, but with only a 12 foot beam. She's nice, and very utilitarian in appearance. Built in 1950 at the South Coast Company yard where Hugh had gone after leaving Wilbo.
The MAYFLOWER

Pictured here is the "Miraka," number 8, of ten "May- flowers" built between 1957 and 1962 by American Marine in Hong Kong. She was first owned by Hollywood actor Neville Brand, perhaps best known for his role as the warden in "The Birdman of Alcatraz."
Miraka was totally restored and refurbished in the 1990s by the present owners who presently have her on the market. See more about Miraka at:

THE MAYFLOWER
a Storybook "Ship"

When Hugh Angelman and Charles Davies realized how the Sea Witch enchanted admirers, the logical next step, of course, was a "pirate ship."
The Mayflowers took the Sea Witch concept to the next level. Still a ketch, but what a ketch she is! She's a topsail ketch, with square sails on her main mast!
Perhaps Hugh and Charles outdid themselves a little on their "Mayflower" design, but there is no getting around the fact that the Mayflower has plenty of enchanting features and charm. And she had one of the things Hugh wanted most to put into one of his designs – a "great cabin" aft with ornate windows in the transom. She is only four or five feet longer than the Sea Witch on deck, and her beam, at 13' 8", is only slightly more than that of Sea Witch.
But where the Sea Witch, in spite of all her charms, retained the businesslike appearance of a "working cruiser," Mayflower seemed somewhat flamboyant and storybookish, and thus immediately became known, not as just a small ship, but a "pirate ship" – or, as one Sea Witch fan has put it, "a Sea Witch on steroids."

See much more at: http://www.tallshipmiraka.com