Refit complete! Captain Jack's March 19th, 2013 email:
"Getting closer to sailing away

Jack"
Refit photos added to those of May 31, 2012 below. Looking good!
---
More photos from Jack "as she slowly gets restored..."
Says Jack, "I have decided to, in essence, install a double hull in parts of the vessel. This is with Honduras Mahogany...

"I am presently in West Africa doing an Engineering Project for Chevron, but I will be home in July to finish the job and after the necessary electronic upgrades planned this summer, I'll be closer to getting thru the Panama canal and westward to the South Pacific.

Regards,

Jack Oldrin
Sea Belle"
PHOTOS SENT BY CAPTAIN OLDRIN
March, 2013, Refit Complete!

PHOTOS SENT BY CAPTAIN OLDRIN
May 2012

The pictures show the deck box after they have been totally rebuilt; the new upholstery and of course the new table and bench chairs that replaced the main port salon bunk; as well as the new galley area.
May 4, 2009: Jack Oldrin sent these photos taken at the May 1-3 " Keels & Wheels" show at the Lakewood Yacht Club at Seabrook, Texas. Sea Belle won Best of Class (Classic Sail). Obviously, Sea Belle stood out and got her just due. It was a gala event, and there were all kinds of "wheels" including at least one car that actually must have had a keel of its own (shown below).

In September of 2007 we first heard from Jack Oldrin (a contract engineer/project manager in the Oil and Gas industry, of Kingwood, Texas), advising us that he had just purchased Sea Belle from Dr. Ted Nolan Thompson. Jack, had this to say about Sea Belle's future:
(Sea Belle) will be sent (from California to Houston) by truck. I have two senior surveyors who specialize in classic wooden boats on both ends to make sure everything goes well in transport.
My family goes back to the early 1800's sailing and making a living in wooden ships. However, while I certainly got a lot of boat maintenance experience growing up in Sag Harbor, Long Island, New York working on my uncle(s) boats, and even though I am a avid wood worker with all the needed tools, it has been a long time since I have been sailing regularly. (Sea Belle will be berthed at the Houston Yacht Club in La Porte, Texas, just south of Houston).
My 11 year old son and I will be taking the next year remembering our skills on Galveston Bay before any long trips. I hope, from time to time I can ask the "Sea Witch Community" questions and/or for opinions as time goes by.
...I feel very lucky and privileged to be the new owner of such a classic boat and with such a great history as she has.

Regards,

Jack Oldrin
We certainly wish Jack and his young son all the luck in the world, and hope they will be finding their sea legs quickly and easily, and have a long and exciting sailing career together.
September 23rd, 2008, update: Hurricane Ike devastated the Galveston/Houston coastal area on the 13th of September, 2008, and the Houston Yacht Club and boat owners suffered tremendous losses. But good news comes to us from Sea Belle owner Jack Oldrin. Sea Belle survived the tempest with hardly a ruffled feather.
Says Jack, "...After the Hurricane, I swear I heard her say..." 'Is that all you've got?'!"
"The Sea Belle Lives On. Before and after Ike Pictures. 95mph winds and 17 ft storm surge. 15 out of 225 boats survive, Sea Belle is one of them!!!" Jack Oldrin
---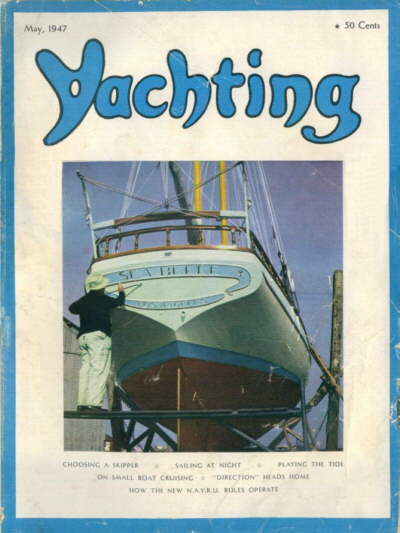 May, 1947 Yachting cover
Contributed by Stephen Carlson
Sea Belle is one of the five WILBO originals, and the last Sea Witch built at WILBO while Hugh Angelman was still in charge. She's still in sterling condition, having been maintained with the most meticulous tender loving care. The first owner of Sea Belle was Bob Carlson, who owned her from 1946 through 1949.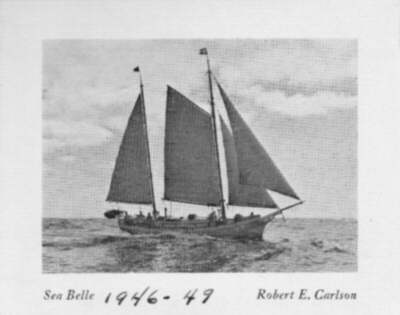 Contributed by Robin (Carlson) Miles

Former owner, Dr. Ted Nolan Thompson owned Sea Belle for twenty-five years (1982-2007). Dr. Thompson was proud to have counted Hugh Angelman as a personal friend, and maintained Sea Belle to the highest standards in honor of the Angelman legacy. Now the baton has been passed to Jack Oldrin, and hopefully Sea Belle will continue to honor the legacy for many years to come.
There have been a few changes made to Sea Belle since she was launched. The most significant was when the owner previous to Dr. Thompson re-rigged her with a marconi main and replaced her deadeyes and lanyards with modern yacht fittings.
Here's Sea Belle vital statistics, followed by some interesting comments contributed by Dr. Thompson:
Sea Belle
Built: 1946
Previous Home Port: Dana Point Harbor, CA
Hull Material: Wood
Engine/Fuel Type: Single Diesel
48' Angleman Ketch/Marconi Rig 48' LOA (Spar length)
Builder/Designer: Hugh Angelman, Wilmington Boat Works
Beam: 13' 5"
Displacement: 32000 Full Draft: 5' 6"

Engine: Yanmar 4JH2E. HP: 51 Engine Model: 1994 Model
Cruising Speed: 6 knots. Max Speed: 7 knots

Tankage
Fuel: 92 gallons, Water: 200 gallons, Holding: 30 gallons

Sea Belle and Angelman
Comments on Sea Bell, Hugh Angelman, and Wilbo from from
former owner, Ted Nolan Thompson, M.D.
... "Sea Belle" is a superbly maintained, nautical heirloom...not only a vessel with the historical roots of The Wilmington Boat Works (Wilbo) in San Pedro California but referred to by the renowned builder, Hugh Angleman, as his "favorite"...and the last boat he built (along with his protégé Captain Charlie Davies).

The cover boat story in the May 1947 edition of Yachting Magazine, she got deserved attention and she still turns heads today. Her sistership, "Sea Witch", sailed by Captain Charlie Davies in the 1951 TransPac, averaged 6.5 knots and placed first overall corrected...a testament to the efficient design of the hull (at the time).

The current owner since 1982 was a friend of the builders and the few owners, the primary owner since 1947 being oil man Larry Doheny, a 3 1/2 year WWII Submarine Veteran.

Hugh Angleman and Company built a total of 92 boats in it's prestigious history and Mr. Angleman personally built 35 boats from the 1920's...with "Sea Belle" being his final boat he built in 1946. He retired the next year.

So skilled as a designer and builder, Mr. Angleman's shipyard was visited by Hollywood Celebrities who commissioned boats, among them was Ward Bond, Humphrey Bogart and Spenser Tracey. It was said that they sought him out exclusively. When you look at the details of the construction, you'll find that the vessel was built with WWII Mine Sweeper Material (all non-ferrous metals) such as Silicon Bronze Fasteners, Copper Water Tanks and Monel Fuel Tanks. The teak decks were laid with minimal buttresses with planks as long as 20' and the hull was built with Full Length (40') Port Orford Cedar, Air Seasoned for 4 years prior to construction.

A surveyor's comment in the early 1990's says it all: "workmanship perhaps never to be equaled".
I was a very close personal friend of Hugh Angelman beginning l959 till his death in 1967. Hugh was a wonderful man, like no other...

Hugh began the very first marine ways in l906 in San Pedro. His all time favorite boat he told me one day personally was the Sea Belle, his last, built with WWII minesweeper materials by Hugh and Charlie Davies with a "kiss on every plank."

My first Angelman ketch was Hugh's A-30 which I named the Sea Knight, the forth delivered from Maas Brothers, Breskins, Holland, April l960 to San Pedro and the only one of the four with no mistakes. I took it to San Francisco in June, l960 and put it in the very first brand new slip at Clipper Yacht, Sausalito, a 40 foot slip for l8.00 per month! My 45 foot slip is now over 700.00 per month and the waiting list is over ten years. It's just nuts!

...There were five Wilbo ketches of the Sea Witch type, the Witch in l938, the Rover in l940, the Queen in l945 and the Belle in l946 which became the cover boat of Yachting Magazine in the May l947 issue. The fifth and last Wilbo was the Golden Hind built in l957 by Robert Carlson, Hugh's son in law, who ran the Wilmington Boat Works yard after Hugh retired in l947.
There were ten Hong Kong witches and then the nicest of all, number 11, came in to the Balboa Bay Club in l963 the previous ten delivered during l959 and l969 along with ten Mayflower ketches (40 feet by l3'7" beam that looked like pirate ships). They were all built at Junk Bay, Kowloon by the Newtons (American Marine)...
Oh, Charlie Davies liked the gaff rigg and my A-30 was gaff. I can't get over how Charlie could sail a Witch like he did. One day he passed me with ease in a big blow and the Belle with good wind was a very fast hull for 32 feet at the waterline. I guess I like the marconi rig better but Charlie was some real sailor! He averaged 6.5 knots all the way to Honolulu on the Sea Witch with strut and prop dragging along in l951 winning the whole Honolulu race!! On the same gaff rigged Sea Witch he won his class in the race in l949. He told me the gaff was the way to go. How then can I say otherwise."
And more...

...As I recall Hugh built 92 boats, 35 for pleasure, the Belle being his last together with his protégé, Charlie Davies. The Rover was built in l940 mostly with Hugh's favorite shipwright, Loren Jones. His son, Doug Jones, the last to run the Lido Shipyard, before it was sold and modernized, is now a surveyor out of Newport Beach. Hugh and I were great friends beginning l959 till he passed on...

The Belle was Hugh's favorite boat as he told me so one day. He and Charlie built it in l946 after building the Queen in l945, both of WWII minesweeper materials including all non magnetic metals. The skills involved building the Wilbo ketch are without equal today. It's bewildering how they did it and in the time frame it just doesn't seem possible. When Larry Doheny became owner of Sea Belle (from Robert Carlson, Hugh's son in law for which it was originally built, Robert Carlson ran the Wilbo yard after Hugh retired in l947) the Sea Belle became the cover boat of Yachting, May, l947...
These designs were by Hugh and nobody else and I mean no one else the one exception Hugh's wife Leslie whom I knew had much to do with the interior layout typically seen in the Belle, all Wilbo ketches and the A-30s of course on a smaller scale. "Safety" was Hugh's primary concern thus the layout had to importantly consider balance and weight distribution plus a lot of places to hang on to when the going got rough...

Hugh also designed the A-30, or Alpha ketches, wonderful boats initially built in Costa Rica, also in Costa Mesa, the most famous the "Golden Rule" that with 4000 pounds of can goods aboard was sailed to the South Pacific to protest the hydrogen bomb trials. Maas Brothers in Breskins, Holland built four A-30's the fourth became mine in April, l960 which I kept into the seventies. Maas also built a 36 foot ketch, a copy of Hugh's design the first as I recall named Moon Beam sunk going on the rocks between Arguello and Pt. Conception.

...(B)oth Hugh and Charlie went to Hong Kong when the Newtons were unable to loft the witches to get the Wilbo beam of l3' 5" and carry the extra width fore and aft. Charlie told me after Hugh explained how to loft them to get at least l3 feet even, the Chinese yard manager then "konked his number one on the head with a two by four!" and when Hugh and Charlie asked, "Why in the hell did you do that?" the yard manager responded, "So he will remember!"

Ted Nolan Thompson, M.D.