Books by
Herb Payson
Featuring Sea Foam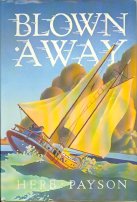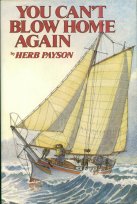 HERB PAYSON


GONE BUT NOT
FORGOTTEN



We belatedly note the passing of Herb Payson, longtime owner of Sea Foam. Herb passed away at on Tuesday, July 28, 2015, at the ripe old age of 88.
See: Sail Magazine article

We haven't heard from the present owners of Sea Foam, so we cannot be sure that our ownership and home port information is up to date.
On August 31st, 2014 we heard from Stephen Carlson, owner of the Sea Quest. He had recently been in touch with Ernie Copp, who often writes for Latitude 38 Magazine. A photo of a Sea Witch caught his eye, so he contacted Mr. Copp to see which Sea Witch it was. As he already suspected, he learned that it was the Sea Foam.
He learned more. Mainly that Ernie Coop once owned the Sea Foam, information that we at the "Sea Witch Home Pages" did not have. Additionally, Ernie shared some great photos of Sea Foam with Stephen and this site – while she was a pristine "show piece." Ernie owned Sea Foam just previous to Herb and Nancy Payson, and obviously took a slightly jaundiced view of Herb's cruising style and casual brand yacht maintenance.
Here's an excerpt from Stephen's email to this webmaster:

Bill

...talk about a small world. I'm reading Latitude 38 and I see a Sea Witch Pic. Right away my eyes open wide and I'm reading the story with the pic. I can see the boat looks like Sea Foam, so I go on the net looking for Ernie Copp. I find him, I send him an email and he sends this to me. Please add this to the web site... Ernie is a regular writer in Latitude 38 always a good story or two. In one article he talks about Sea Foam at berth Southern Cal and the 1964 Alaskan earth quake and the boat hitting bottom the marina several times from tsunami. Amazing!... Stephen
Edited copy of Mr. Copp's email to Stephen,

These are all of the digitized pictures that I have of the Sea Foam, but they do illustrate the condition the boat was in before Herb entered it in the Junkyard Derby.

You will notice the plaited chafing gear made from oil tanned leather, as it wears several times as long as normal tanned leather, and you see the turning block and part of the Highfield lever for setting and releasing the running backstays. I devised the layout and made the levers myself.

In practice, the lever would be released for the Lee backstay as the boat tacked over, and the Weather runner would be dropped over the cheek block and the lever thrown into place on the weather side and no further adjustment was required each time. They worked perfectly, and made it much easier to sail.

I had already traded my ownership of the boat to the owner of the Offshore 50, before I met Herb, but I knew after talking to him for a few minutes that I would never have sold the boat directly to him. He was a struggling musician, and was giving that up, and looking for a cheap way to live. I offered to show him how things worked on the boat, but he dismissed that as being unnecessary, as he and his 16 year old stepson could figure it all out themselves.

It just broke my heart to see how he did not seem to do one bit of maintenance, and the stories I heard made me sick, but there is nothing a person can do in a situation like that, but for sure, I was very particular about who I sold the Orient Star to.

I am looking at the picture of the galley where the kerosene lamp is on the bulkhead. Our first trip was an upwind passage from Long Beach to the Channel Islands, and it was so rough that when my wife cooked oatmeal for breakfast on the way up, unbeknownst to her, kerosene splashed out of the lamp into the oatmeal, and we did not know it until we tasted it. That was a lesson we never forgot.

Several boats made the trip to the Channel Islands about then, dead upwind, and against a 3 or 4 foot chop, was the Great Bear, that German Canal Barge that was around then, that was supposed to have been Goering's or Himmler's yacht. On the upwind sail to the Channel Islands the Groote Bear was the only boat that took longer than we did to make that trip. So we knew then we did not have a racing boat.

The boat was built in the Wilmington Boat Yard, near San Pedro, a few years after WW2. It was about ten or twelve years old when I bought it in 1963 and sold it in 1972. It was constructed with quarter sawn Douglas Fir and Mahogany right work. I met Hugh Angelman once, but just in passing. But I did get to know his Protégé and Associate Charlie Davies, real well, I believe he helped design the 31 foot version of the Sea Witch, which was not as successful, and was also involved with the rather clumsy Mayflower???? that had a low waist and looked like it had gun ports. It was not very successful either, but there were a few of each around for several years...

Kindest regards,

Ernie Copp

Thank you Ernie!

PHOTOS CONTRIBUTED BY ERNIE COPP
With Thanks to Sephen Carlson of Sea Quest

Herb and Nancy Payson, who owned the Sea Foam after Ernie Copp, cruised the Pacific in her for many years. They have a wonderful web site that includes a lot of photos. Many of them are included below, complements of Herb and Nancy.

June 25th, 2016: Sadly, we have learned that Herb passed away on Tuesday, July 28th of 2015. We belatedly morn his passing.
See: http://www.sailmagazine.com/boats/eight-bells-herb-payson/

---
Herb Payson is the author of Blown Away and You Can't Blow Home Again, two books that document their six and a half years of cruising with their children throughout the broad Pacific on the Sea Foam, told as only Herb could do.

After parting with Sea Foam, Herb and Nancy remained ashore for seven years, but then purchased "Red Shoes," a Crealock 34, and spent another ten years cruising. After that they spent four years "trailer sailing" while writing articles for SAIL magazine. SAIL magazine has featured dozens of Herb's articles over the years. He began writing for SAIL during his Sea Foam years, and his name appeared on masthead for thirty years.
Herb's most recent book, published in 1997 by Sheridan House, is Advice to the Sealorn, a distillation of over 20 years of sailing experience, and advice "...written in the same charming and funny style as Herb's previous stories..."
Herb says, "We're out of sailing now, but I wouldn't trade those years for anything."

---
SEA FOAM
Photos Contributed by
Herb & Nancy Payson
http://www.herbpayson.com

Herb and Nancy, owned and cruised on Sea Foam for 6-1/2 years, during which Herb wrote magazine articles about their adventures. And then he went and wrote two books about their years on the Sea Foam, and after that, about "Advice to the Sealorn." Available at: http://www.herbpayson.com or at Amazon.com.

You can see many more of Herb's photos on Herb's web site, and read the stories that go along with them at:
---