SEA QUEST WINS!
2014 Master Mariners Regatta
Gaff 2 Class



Crossing the finish line and my first place flag (below right).

OWNER STEPHEN CARLSON REPORTS...

Well, we won our first Gaff 2 class Master Mariners Regatta race! The winds got to 28 knots during last leg of race... After rounding South Hampton mark, it seemed like a dream.
Then it happened! We blew the main! The mast was shaking but we were still in the lead. What to do? So we keep sailing – and it got worse! My poor mast! Thank goodness the mast is only 15 years old, and built like a brick. But as I ease the main out – what was left of it – we realized we weren't losing a whole lot of speed! So, I made the choice to take the mainsail down, whipping in the wind, mast shaking – but not losing a beat!
Sea Quest kept on going all the way to the finish line! The gun went off – yep it wasn't a dream – Sea Quest won – and under only 3 of her sails!
Can you believe that! Got to love these boats! Thanks to my crew Susan and Fred for their help.
Sea Quest is now sporting a brand new main sail from UK Sail. Right here in Alameda California! I believe the old sail was 40 years old and maybe older. Not sure if its the original. It did have hand sewn rope along its edges. If anyone that owned her in the past knows anything about her sails from the past please contact me.
Will be adding new head sails next month also from UK. You can now see Sea Quest on You Tube ( http://youtu.be/33ecGsk9F5g and http://youtu.be/BwZW31a025A ) thanks to Dale from Sea Fourth – and thanks to Paul, Sea Rouge; and George, Sea Dragon, for all their help with my questions on the new sail.
Got to love Angelman and the Sea Witch!!!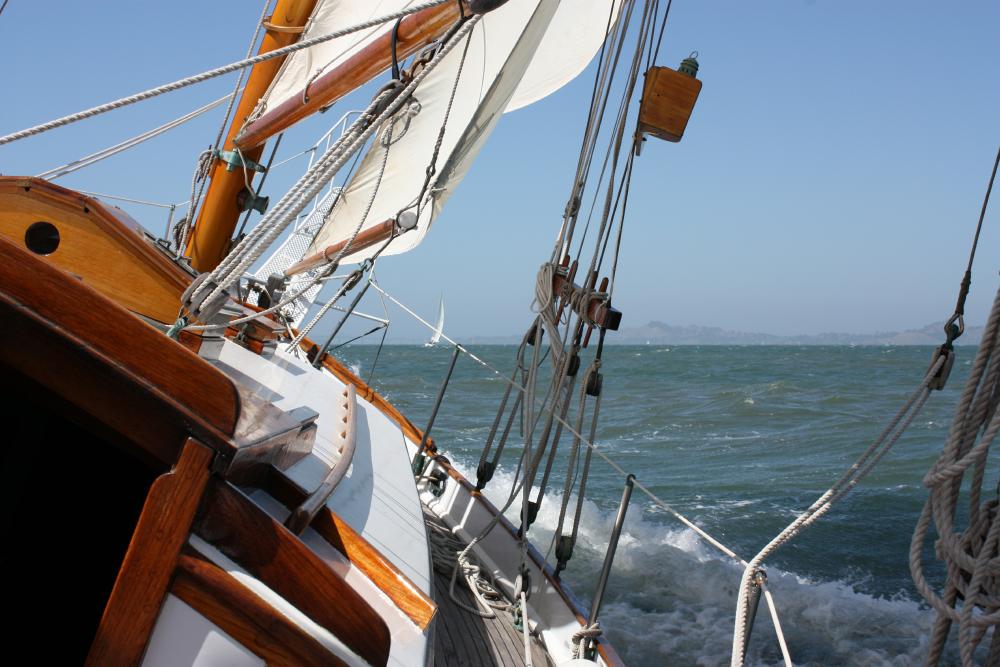 "...San Francisco North Bay (Red Rock, Richmond Bridge) at the Bow... Point Richmond to the right... One of my Favorite tacks late afternoon. Breeze straight from the Golden Gate bridge and Ocean. Great sail until the lee side of Angle Island, then the wind can just poop out..." Stephen (March, 2014)
My name is SEA QUEST
I've lived a quiet life in Southern Cal until the late 90s when I was brought up to San Francisco. I'm an American Marine 1961 1 3/8" teak build, hull 7 . I've grace the cover of Bay and Delta magazine July '98 sporting my original colors black hull and white sheer.
Her mast broke an hour after the picture was taken during the 98 Masters mariners regatta. This prompted her sale and purchase by Stephen.
I found Sea Quest in the Oakland estuary no mast, no vanish, and looking like she needed attention. Having been able to go aboard her I fell in love. I could see her beauty. After a long conversation with her past owner a deal was made and I took her away to her new life. I changed her color to help ease her hull seams and re reef the whole deck to keep her dry and then had a new mast built – a one piece design not two which allowed water to seep into the mast itself. And made many repairs to restore her to her unaltered look, well has close as I could. Oh yea and a ton of varnish!
Her rigging is has very simple, I single hand her most of the time and would trust her in any conditions. I live aboard her. She's my home my love. Sea Quest is a regular at the Master Mariners wooden boat show in Tiberon and has won awards and come in second in the gaff division Master Mariners Regatta.
If you were a past owner of Sea Quest and have any pictures or stories, please send them to me or the web site. Also I would love to get the original builders plate which I've be told the family who first bought the boat still has. Many thanks to Bill for getting the site going!

...And thank you Stephen for being the primary catalyst to the creation of this site!
The webmaster made the acquaintance of Stephen Carlson when he received an email saying, "I'm trying to locate William R. Carr. I own a Sea Witch in San Francisco Ca and would love to talk to him... I actually know Hugh's (great) grandson and Charlie Davies' son Brad, but none have found a set of plans complete. I sail her (Sea Quest), in San Francisco bay and coast though I haven't cruised her yet. I live on her, she makes a great home... Well ask away any questions. I'm loaded with answers. I love these boats!"
And out of that meeting with another Sea Witch enthusiast – one who actually owns and lives aboard one – and with all the great information and photos he soon provided – came the idea for this web site. Stephen was the catalyst. For one thing, finding that he was trying to locate a set of Sea Witch plans too, I realized I wasn't the only one searching for them, and that they would be even more difficult to find than I had imagined. It occurred to me that perhaps a Sea Witch web site could eventually scare some up – and it has! See: Sea Witch Plans.
JULY 22, 2012: Photos from June 24, 2012 Master Mariners Wooden Boat Show.

2011 Haul-out photos
JUNE 1, 2012: Stephen and Sea Quest participated in this year's Master Mariner Race placing third in that event.

First year I raced she got second. The second race we place 5th, due to a bad start. The third year we came in third missing second place by a tenth of a second. This year we placed third .....a very wet and windy race at the end... For me, its all about the fun. June 24 is the big wooden boat here in Tiberon, getting here ready for that. Last year I won best owner maintain boat. Stephen
---
SEA QUEST PHOTOS
(Click on Thumbnails for Larger View)
SOME SEA QUEST VITAL STATISTICS
Displacement: 26,068 lb. (13 tons)
Ballast: 5500 Lbs.
Inside ballast: (lead ingots app. 85 lb. each), total 1500 lb.
Main engine: Ford industrial 220, about 60 hp (with) a Borg Warner transmission.
Fuel tank: About 90 gal under the cockpit.
Generator: Hydraulic PTO attached to the front of the engine runs a 5500 kw generator.
Batteries: Four of the five 4-d batteries are in the bilge area across the keel, and the fifth battery is under the quarter berth.