The Sea Witch on Canvas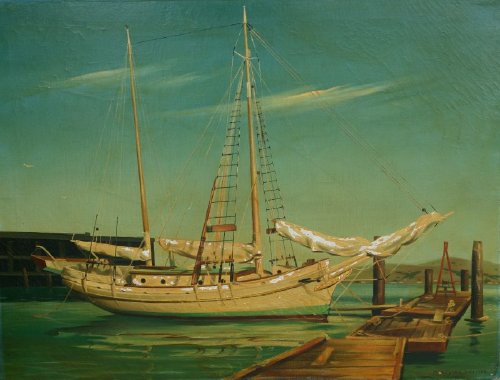 36" X 26" painting by Paul Lantz. Click image, or here, for a larger view.
Oil Painting by Paul Lantz (1948)
Roy Gallucci contacted us in March of 2008 with the following message:
I just found your website. I have a large oil painting of a Seawitch, by the famous artist Paul Lantz. It is dated 1948. I am the nephew of Mr. Lantz. When I was a boy, I remember going to Long Beach or Wilmington to watch him paint this picture. According to what I see on this website, it must be the original Seawitch. I remember him saying that it had just won a big race. I don't have a computer, but I will try and get a picture of the painting and get a friend to post it on this site. I will also give you more info on the artist. I am leaving town for a few weeks but will get back to you. Keep sailing – Roy Gallucci
Roy came through on the last day of August, and we have the privilege of seeing another one-of-a-kind painting of Sea Witch. At this time we aren't really sure which Sea Witch this is. All we can be certain of is that it is one of the original WILBO Sea Witches built before 1948. Sea Witch (1937), Sea Rover (1939), Sea Queen (1945), Sea Belle (1946). Guesses so far are that it is either Sea Witch or Sea Belle.
The painting was varnished at some point to protect its surface, and the varnish has yellowed with age. The brilliant white spots in the painting (on the bulwarks, cabin side, and sail covers, etc.), are a few places where the varnish has flaked off. According to Roy:
...The white is where some of the varnish has come off and taken some of the white paint with it. Those are the hills of San Pedro in the background. Changed a little, hasn't it...
Yes, the San Pedro hills have changed in appearance since 1948, but Sea Witches, wherever they may be found, retain the same ability to enchant and charm.
Roy would like to sell the painting to a Sea Witch owner, and Sea Belle owner, Jack Oldrin, (as of the last day of August, 2008), seems to have first choice at this point. But, says Roy, "If Jack doesn't want the painting, I will make a deal with any Sea Witch owner that would like it."
Mr. Callucci can be contacted at: sandcastle4us@webtv.net (Roy and Ginny Gallucci). Here are some more of his comments with regard to the painting and the artist:
...(T)he Sea Witch was launched in 1937. I was launched the 13th of May 1937...
Let me tell you a little about my uncle Paul. He was born in 1908 and passed away in 2000. He had paintings in the 460 Park Avenue gallery NY, the Marshall galley and the Roswell museum, to name a few. His work is represented in the permanent collections of the Metropolitan Museum of Art (hall of masters) and The New York Historical Society and in many private collections, that include Mrs. Marshall Field and Theodore Roosevelt. He was pretty good!
Roy noted the apparently oversized galley smoke stack in the painting. Perhaps that will turn out to be the clue that identifies which Sea Witch this actually was. As for the race the above Sea Witch had won before 1948, Roy speculates: "(T)he race could have been the Newport to Acapulco Mex. I think they ran that race back then."