ISAIAH L. POTTS and POLLY BLUE
OF POTTS HILL
by William R. Carr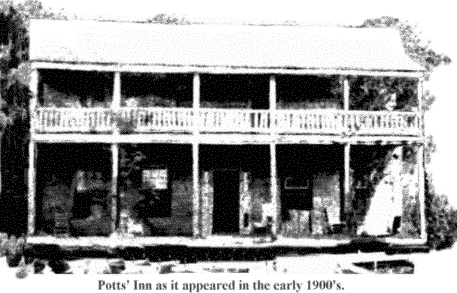 "...where legend says many a man has stopped for the night and never been heard of
more. It looks like a place for deeds dark and dreadful."
"What could have been done more to my vineyard, that I have not done in it?
wherefore, when I looked that it should bring forth grapes, brought it forth wild grapes?"
(Book of Isaiah, Chapter 5, Verse 4)
The stories of Potts' Inn and Billy Potts have become integral parts of Southern Illinois folklore, and thus, to many people, somewhat sacrosanct. Regardless of historical veracity, they have taken on the mantle of historical truth in the minds of quite a few romantics. Many tend to take umbrage at historical researchers who, often in an attempt to authenticate the legends, fail to substantiate what is popularly believed to be part of the area's colorful history. The proprietor of Potts' Inn, and his wife, however, were very real historical characters and thus deserve a fair hearing in the context of history. Since they do occupy a place in our regional history, as well as folklore, perhaps we should know a little more about them.
Possibly, there are people living in Hardin County, Illinois, or elsewhere, capable of shedding more light on the stories surrounding Potts' Inn than either I or other writers have thus far been able to do. Though there are many Potts families in Southern Illinois and elsewhere, known to be distantly related to the Potts of Potts' Hill, it is quite possible that no direct descendants exist. To date no descendent of the proprietors of the infamous tavern have come forward with information that would assist researchers in clearing up the historical ambiguities surrounding the subject. Perhaps the legends have simply been so all-pervasive, and damning in nature, that descendents and relatives that may exist simply haven't had the inclination nor stomach to either authenticate or attempt to correct the record, and thus call attention to possibly disreputable ancestors. Quite understandably many in the Potts family would prefer that the Potts Inn legends simply be forgotten. But that can only be wishful thinking. Unfortunately, the likelihood of any authoritative account surfacing becomes less likely as time goes on. It remains for those of us lacking family traditions in the matter to attempt to put those legends into plausible historical context in light of the scant evidence available.
Ronald Nelson's extensive research and work published over the years on the pages of the Springhouse Magazine have undoubtedly been the most comprehensive on the subject to date. Much to the chagrin of many local history, legend, and lore buffs, Mr. Nelson has somewhat conclusively proven that there was probably never a person named Billy Potts in residence at Potts' Inn. The proprietors were Isaiah L. and Polly (Blue) Potts, and no record of any natural children have been uncovered to date. Still, Isaiah Potts himself is worthy of more than just passing note on the basis of what little is known. He was among area's earliest settlers, and probably the first of his family to cross the Ohio and settle in Illinois. What's more, Isaiah Potts, for better or worse, was one of the area's leading citizens of the day. While he was undoubtedly civic minded and very much involved in public affairs, he was also a rather close associate of the notorious James Ford.
My own interest was recently whetted by the surprise discovery that I am a five times grand nephew of Isaiah L. Potts. Perhaps I am the first acknowledged relative to make an attempt to shed additional light on the life and career of Isaiah and Polly. Yet I do so without benefit of any family traditions to aid in my endeavor. I realize that I may run the risk of raising the ire of some members of the Potts and Blue families by bringing some family connections into the light of day. On the other hand, I also realize that there are probably many others, such as myself, who will be pleased to learn their family connections to the subjects of local legend. In any case, this is not a purely objective treatment of the subject. Rather, it is admittedly friendly to the long maligned couple.
Knowing of my Potts family connections, and having grown up hearing of the Legend of Billy Potts, I'd often wondered whether I might be a descendent of the legendary Billy. (See Springhouse Magazine, Vol.4, No.3, June 1987, for one version of the story.) Family tradition certainly did nothing to claim any such kinship or even encourage curiosity in the matter.
Rather than speculating on any relationship with Billy Potts, the family cherished a tradition that our Potts ancestors hobnobbed with such illustrious figures as George Washington. My great-grandfather is said to have possessed letters George Washington had written to one of his ancestors. He kept them in an old trunk and brought them out from time to time, proudly showing them to young family members. One of my aunts remembered seeing them when she was a little girl during the second decade of the twentieth century. Lamentably, those priceless treasures burned some time later, along with the old family farmhouse.
My father, though uninterested in family genealogy, had read enough American history to know that General Washington had made his headquarters in the house owned by Isaac Potts during that difficult winter of 1777-78 at Valley Forge. From this, he surmised (wrongly, as it turns out), that Isaac must have been one of our direct ancestors. This was the tradition of which I became aware, rather than any possible Potts' Inn connection.
My quest for a Washington connection goes on, and there are many interesting theories and possibilities, but no convincing evidence, at least with regard to a direct line to my own branch of the family. That there were many Potts associated with Washington is not in question. Some were surveyors who may have worked with him during his early career. Many served during the Revolutionary War. More than one, I have been told (but have not confirmed), served as pallbearers at his burial.
Having no reason to seriously suspect any family connection with the Potts of Potts' Inn fame, I had taken only a passing interest in Ronald L. Nelson's series of Springhouse articles entitled "In Search of Billy Potts". Then, not long ago, one of my uncles sent me an information sheet showing that our Potts line can boast of both Teddy and Eleanor Roosevelt as distant cousins. It wasn't the remote Roosevelt connection that intrigued me, however. What sparked my interest was an Isaiah L. Potts in our direct line. Remembering that the infamous owner of Potts' Inn was an Isaiah L. Potts, I thought I'd stumbled upon tantalizing cutthroat connection. It was this that initially prompted me to investigate our Potts genealogy.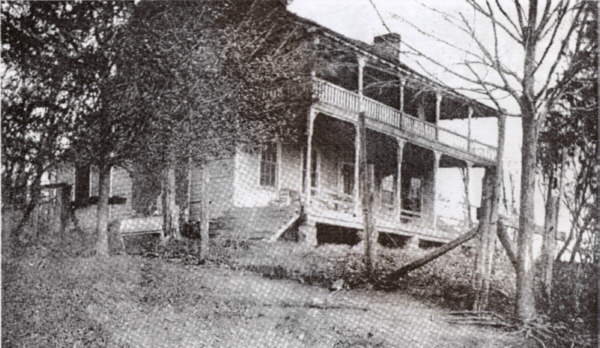 This photograph of Pott's Inn, was taken in the 1920s by Cave-In-Rock native Ted Frailey, a photographer and long time barber in that fabled town. It was taken for Lucius H. Zeuch, M.D., and appeared in his "History of Medical Practic in Illinois," Volume I, and originally published in 1927. This Photo and part of that publication, appeared in the Springhouse Magazine, Vol. 25, No. 4, in September, 2008. Compliments of Springhouse.

My interest aroused, I delved into my collection of old Springhouse magazines and reread all of Ronald Nelson's articles with renewed interest. I located and searched several comprehensive Potts genealogies and family histories on the Internet. Surprised at the volume of information available, I easily located my ancestor, Isaiah L. Potts. I was slightly disappointed, however, when I learned that my four-times great-grandfather, Isaiah, was not the owner of Potts' Tavern. That distinction went to his uncle, bearing the same name — my five-times great-uncle Isaiah. I was a grand nephew to a cutthroat, rather than a direct descendent. This, however, was somewhat satisfying, and certainly better than nothing.
It may seem strange that the cutthroat connection stimulated more interest than the presidential and first lady connection, but such is the perversity of human nature — at least in a significant minority of the species. The truth is, those imminently respectable connects were so distant that they hardly seemed to count, and the cutthroat connection almost eerily near. The site of Potts' Inn is only about twelve miles due east of the old family farm where I spent many happy days in my youth, and the countryside hasn't changed all that much in 170 years.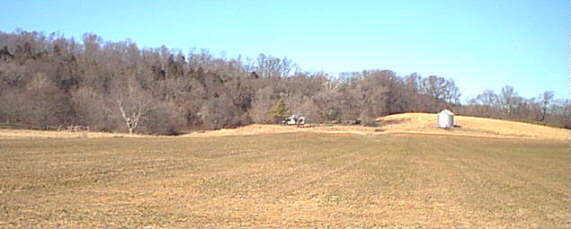 View toward Potts' Hill from south, with "Potts' field" in foreground. House, near center, is on old tavern site. It is said that human bones were often uncovered in this field in early years. But it must be remembered that this had been the site of an Indian village, and the old trail itself a relatively recent "warpath" for both Indians and "Long Knives." Murders were known to have occurred here long before Isaiah came on the scene. The ancient trail itself had been considered "haunted" by many earlier travelers. Illinois Route 1, unseen in this view, passes just to the right of the right margin of the photograph. The metal grain storage bin at right, other than perhaps the neatness of the cultivated field, is the only thing here which might not have fit the scene in the early 1800's. The old Ford Ferry Road would have been on the left side of photo.

My old friend, and Springhouse publisher, Gary DeNeal, learning of my interest, kindly volunteered to accompany me to the site of Potts' Tavern, which I'd never before taken time to locate and visit. We first visited the state historical marker he and Ronald Nelson had been instrumental in having placed near the site, (on Illinois State Route One, some dozen or so miles south of that route's intersection with Route 13, roughly in the middle of the land some writers have referred to as "Potts' Plantation"). The actual inn site is on private property some hundred yards or more north of the marker, and a few hundred feet to the west of the highway.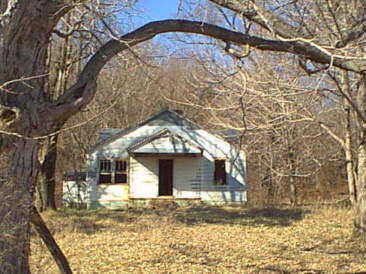 Today, an abandoned house, built in 1947, occupies the site of Potts' Tavern. The old cellar is still beneath it.

The hill and old inn site overlook the bottom land that Isaiah once owned, and the old roadbed, which was the Cave-in-Rock to Vandalia trail (the famous Ford Ferry Road), can still be clearly discerned where it passed the site of Potts' Inn and over what is still known as Potts' Hill. It is still a very lonely scene, with no other dwellings in sight — as lonely as it must have been in Isaiah's day. Potts' Hill is still forest covered, but the adjacent bottom lands are under cultivation, having been incorporated into an extensive farming operation by the current owners. An abandoned house, built about a decade after the original Potts home was torn down, now occupies the site. The ruins of an old collapsed barn, just to the southwest, is the only other sign of former habitation. Gary took me down into the ancient stone-walled cellar beneath the house, which is certainly part of the original building.
POTTS' TAVERN CELLAR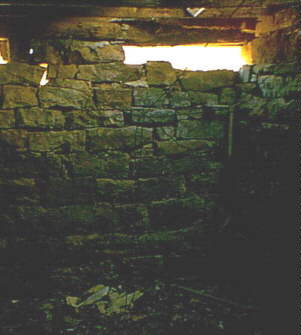 The ancient cellar beneath the Potts' Tavern,
now beneath an abandoned house built in 1947.
The famous spring, reputed to have run red with the blood of numerous murder victims, still looks as it probably did in Isaiah's time, back-dropped against the unchanging, oak-shaded, rock bluffs that continue to lend an eerie aspect to the lonely scene. The spring is situated in a shallow cleft which forms sort of a miniature box canyon at the head of a small watercourse which originates therein. The rocks that line the spring on the three upper sides are green and moss-covered, lending to the sinister appearance of the place. Gary speculated that Isaiah himself may have placed the rocks there. I dutifully climbed down into the depression, and took a long, satisfying drink from Potts' famous spring. Gary was standing above me, looking down on my back (as he said), fingering the jack-knife in his pocket, thinking of the evil deeds my great uncle is alleged to have committed at that very spot.
POTTS' SPRING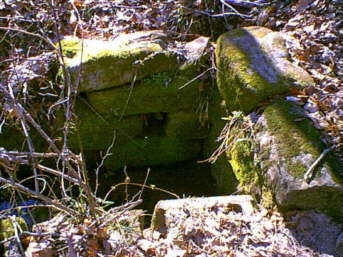 Where many a traveler is said to have
had his last drink on this earth
Three lonely graves occupy a high piece of ground just to the northeast. These are the graves of some of the Tawzer family, who had purchased the land in 1843 from Isaiah's brother-in-law, Solomon Blue, when Isaiah L. Potts was still known to be living on the premises. In fact, it is the record of that very sale that provides history with its last mention of the infamous proprietor of Potts' Inn. There are almost certainly other graves there, but are without markers — perhaps even those of the Potts family that occupied the premises.

THREE LONELY GRAVES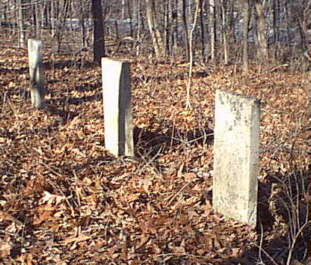 Graves of Andrew, Martha, and John H. Tawzer
(or Tauzer) on Potts' Hill. State Route 1 visible
through trees. In 1843, the Tawzers moved in when
Isaiah moved out and disappeared from history.

Since I love a good outlaw yarn as well as anybody, I had hoped to learn something that would lend credence to the time-honored tales of my long-gone ancestor and his wife. Like Ron Nelson, I was eager to substantiate the "Legend of Billy Potts" and the worst rumors in circulation about the notorious inn. It was my intention to write a more plausible and complete version of the story than has thus far appeared in print.
My own research has mainly been confined to running down the Potts and Blue genealogy and getting the other readily available information organized into a chronological series of historically verified facts. Since Ronald Nelson is the undisputed authority on Potts' Inn and the legends surrounding it, I have leaned heavily upon his research already published on the pages of Springhouse. Many other Springhouse articles related to Southern Illinois' early outlaw era, and the sources references therein, have also been very helpful in filling out my file on Isaiah L. Potts. Additional leads, and some unpublished data, were provided by Gary DeNeal.
Unfortunately, the genealogical record runs into a dead end with the births of both uncle Isaiah and aunt Polly. Their pedigree and marriage are well documented, but the record provides no clues as to their children or ultimate fate.
When I put the many scattered bits and pieces of information together, a picture began to emerge, and Isaiah L. Potts and his wife, for the first time, began coming to life in my imagination. I began to see a living man of energy and ambition struggling in the rough, outlaw infested, frontier environment to carve out and hold a place for himself and his family. My original desire to lend credence to the legends soon underwent something of a transformation. My intention of "convicting" my poor old uncle yet again, as it were, began to play upon my conscience. I suppose I came under the influence of a sense of family loyalty which had theretofore gone unrecognized.
After all was said and done, I had no new revelations or breakthroughs on the subject. After reviewing the legend in several of its versions, along with the historical records that have thus far surfaced, it became clear that there remains insufficient evidence to substantiate the legends, or to re-convict Isaiah Potts of the crimes of the nature commonly attributed to him or "Billy" Potts. Circumstantial evidence still casts suspicion in Isaiah's direction, but apparently legend alone has convicted him. As for the existence of the elusive legendary son of Billy, whom the elder Potts is alleged to have murdered, there seems to be almost no evidence whatever (as Ron Nelson found, much to the disappointment of many — for which finding, and breach of local etiquette, Mr. Nelson was all but tarred, feathered, and run out of Hardin County).
Perhaps old uncle Isaiah and aunt Polly had been wrongfully maligned, I thought, and a grave injustice done. I finally decided to write an historically accurate biographical sketch of Isaiah and Polly, giving them the benefit of the doubt with relation to the many unproven allegations of criminal activity. Perhaps I would be the first acknowledged relative to publicly come forth on their behalf. Lord knows that Isaiah and Polly could use a little good press — or at least some coverage that puts a human face on them.
Stories of legendary outlaws always seem to take on a life of their own. Writers romanticize and embellish, demonize, and often convict, on mere shreds of ancient hearsay. Alleged crimes and crime scenes are frequently reconstructed from figurative shards of ancient pottery and the cornerstones of old cellars. Lack of credible information often becomes the mother of invention, and pure fabrication frequently takes on the mantle of historical fact. The tales surrounding Potts' Inn, its proprietor, and the Legend of Billy Potts, are prime examples. The story has been told many times with as many variations. Darcy O'Brien's article "The Story of Potts' Tavern" (Springhouse Magazine, Vol.4, No.3, June 1987), is an excellent case in point. While O'Brien's rendition of the story is perhaps more graphic than most, it is not at all untypical. Here is how he described my long-gone uncle (always referred to as "Billy"), and his family:
"Billy Potts was as big and tough and rough a man as ever betrayed a friend, fleeced a guest, kicked a dog, beat a wife, or emptied a quart... A curse and a fist in your face or worse was ever the way with Billy Potts.
"He had a foul-smelling little dark wife with a wart on her nose the size of a cockroach and a tongue in her mouth that would peal the paint off a church.
"And they had an ugly son, red-faced and snot-nosed, bigger than a prize hog by the time he could walk, flat-headed and bawling, filthy as a pig-sty at lunch time. And they loved him...
"As soon as the travelers bent down over the spring to take their last drink on earth, Billy Potts would sneak up behind them and plunge his big sharp knife up to its hilt into their backs. And the spring ran red with their blood.
"Meanwhile upstairs at the inn, Mrs. Potts was... slicing up the women and children as they slept in their beds... She could carve up a man as quickly and skillfully with her stone-sharpened cutlery as she could a lamb or pig. Then she and Billy would bury the human pieces in the yard and count up the contents of the purses and change the bedding on the beds..."
This extremely artful literary paintwork was fabricated in the rich imagination of a gifted and successful author of crime stories, to whom Southern Illinois was a happy hunting grounds. (See his description of the region in the first chapter of his book, Murder in Little Egypt). The historical basis for this colorful rendering of Billy and Mrs. Potts is without a shred of historical evidence to back up the graphic description. The story goes that the elder Billy Potts, and his equally diabolical wife, unknowingly diced up their long-lost son in their eagerness to lay hands on his money. Not one iota of evidence exists to substantiate the story, yet, in the telling and retelling, it has gained the semblance of historical fact in the minds of many.
The fact is, it is highly unlikely that Isaiah L. Potts and Polly Blue were anything like the diabolical pair legend fondly holds. More than a simple innkeeper, Isaiah was very much involved in public affairs. Among other things, he was a ferry operator, Justice of the Peace, Road Supervisor, and often a bondsman for public officials. Thus he obviously must have been a man of considerable respect in the community, at least during his first two decades at Potts' Hill. It would be difficult to imagine the man O'Brien described above to have been a man of public trust over a period of twenty years or more. Such a person could not have survived in one place for thirty years, as Isaiah certainly did. Of course, this survival is not proof that Isaiah was of pristine character, but it is a strong indication that he was not quite the loathsome and diabolical character legend tends to indicate. At the same time, it is recognized that the same commendations can be applied to his even more notorious contemporaries, James Ford ("Satan's Ferryman"), and John Crenshaw (of "Hickory Hill and Old Slave House" fame). But James Ford was killed by regulators and John Crenshaw was tried (though acquitted), for kidnapping Negroes. There is no credible evidence that Isaiah was ever tried for a crime or even suspected of one during his lifetime.
It occurred to me (admittedly, as somewhat of a shock), that the notorious Isaiah L. Potts may have been the very last public official and man of prominence my particular branch of the family has produced! We have since remained a family of humble farmers, coal miners, and artisans, far aloof from politics and public affairs. As far as I know, not once, since Isaiah L. Potts, has one of our line been a Justice of the Peace, innkeeper, or road supervisor.
We know less of Mrs. Potts than we do of her husband. As with Isaiah, the only light I can shed upon Polly's character would be that reflected from the respectable family from which she sprang. Of Dutch ancestry, Polly was more likely a buxom blond than "little and dark" as described in Darcy O'Brian's rendition of the Legend quoted above. It is assumed that she stood by Isaiah through thick and thin for at least twenty years on the wild frontier, then the relationship seems to have soured and she left him for reasons unknown.
Not that I would want to attempt a total whitewash of Isaiah's character and career. Most families can boast of a few miscreants and renegades, and ours has undoubtedly had at least its fair share. The various branches of the Potts family, including my own, need have no apologies for this. Their reputations and accomplishments stand on their own merit, and many of our clans have prospered and distinguished themselves throughout their long history in America and elsewhere. The same can be said for the Blue family.
In the case of uncle Isaiah and aunt Polly, perhaps their present day reputation far exceeds their actual villainy, and they have been credited with crimes they didn't commit. It took rugged individuals to set up permanent housekeeping in Illinois country, circa 1814, which is the year Isaiah acquired the land on which his establishment was built. Isaiah and Polly were undoubtedly among the area's earliest settlers, and perhaps the first of their lines to cross the Ohio and settle in what was then still Illinois Territory.
Though Isaiah's land was situated at a frontier crossroads, the "roads" were still little more than Indian paths, only recently taken over by the advancing white man. Potts Inn was very isolated and vulnerable, situated on the south side of a hill which became known as Potts' Hill. Warring groups of Indians had only recently vacated the area. It was in the rawest frontier environment, amidst an assortment of organized cutthroats the likes of which have not been seen in almost two centuries. This was at a time when the civil authority in the Illinois Territory was non-existent except in the few river settlements, and outlawry was wide-spread, often well organized, and very mobile.
A GOOD PLACE FOR A TAVERN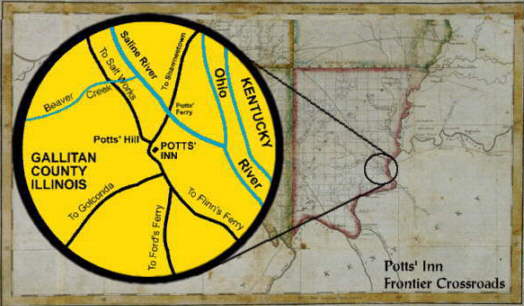 Many trails converged or crossed near Potts' Inn. The area shown in this map
is now in Hardin County. Today's State Route 1 roughly follows the route of
the Salt Works to Ford Ferry Road of Isaiah's day, but it passes to the east of
the tavern site.

Isaiah and Polly's safety and very survival depended upon their ability to interact successfully with the social forces taking shape about them. Under such circumstances, the line between the law and outlawry was frequently somewhat blurred, and those determined to survive were often obliged to have one foot on either side of it and step nimbly when occasion demanded. At the very least, survival often depended upon the willingness to keep a tight lip. This situation changed only when the concentration of settlers became such that bands of regulators could be formed to sweep the lawless from their midst. Regulators were groups of ordinary citizens who banded together in order to overcome the strength of outlaw brigands. When Isaiah and Polly settled at Potts' Hill, the regulators had been herding outlaws toward the Illinois region for some time.
Law, frontier style, was on the march. The scourges of the earlier settlements were being pushed ahead of it. Those refugees from the more easterly Kentucky settlements had been herded westward by regulators. "Behind them, spread out in a great half-circle, the posses were sweeping them westward; ahead of them lay the lawless region of the Cave-in-Rock. When the hunt ended, the Cave was swarming with refugees and the lower Ohio a hive of outlaws." (The Outlaw Years, the Story of the Land Pirates of the Natchez Trace, by Robert M. Coates)


The cave at Cave-in-Rock as it appears today — probably not so much different than it did in Isaiah L. Potts and James Ford's day. This is the view which keel and flatboats would have beheld as they drifted down stream, approaching the cave from the north.

"Wilson's Liquor Vault & House for Entertainment" was established in the Cave in the late1790s, ushering in the Cave's most famous era of notoriety as a din of outlaws and river pirates. The infamous Harpe brothers had gathered there, and Colonel Plug vied for recognition in the area. Next the Cave accommodated Mason, river and land pirate. Then came the Sturvidants, counterfeiters extraordinaire.
By the time Isaiah and Polly settled in, only a dozen miles up the trail, the heyday of the river pirates at the Cave was on the wane, but counterfeiters were still operating, and the day of the great land pirates haunting the wilderness trails was still in full flower. Mason's day had dawned and set, but Murrell was about to come into full blossom down on the Natchez Trace, and his influence spread its tentacles northward to the trails from Nashville through eastern Kentucky to southeastern Illinois.
Perhaps the most powerful individual in Isaiah's neighborhood at the time he settled at Potts' Hill — the one with the most friends, influence, and political clout — happened to be "Satan's Ferryman" himself, James Ford. Ford lived about five miles south of Cave-in-Rock on the Kentucky side of the Ohio near the former Shawnee village at Tolu, and operated a ferry just below the Cave (approximately where the present Cave-in-Rock ferry operates). There was another ferry about five miles upstream, originally known as Flinn's ferry, which was added to Ford's enterprises in 1830, which is today more often identified as Ford's Ferry. By all accounts, Ford was the law in the area when Isaiah settled at Potts' Hill, having become a Justice of the Peace in Livingston County, Kentucky, in 1815. He seems to have had his hand in everything that went on in his jurisdiction of Kentucky, as well as the Illinois bank of the Ohio, at least as far a field as the United States Salt Works near Equality. Legend has it, on rather good account, that he dabbled a little in the waning art of river piracy, and more than a little in the land piracy trade. Actually, he seems to have combined the two rather snuggly alongside his ferry enterprises and civic responsibilities.
While Ford's primary political base, and civil authority, were confined to the Kentucky side of the Ohio, his influence and business activities reached to the important Salt Works and the surrounding areas. Ford patented land in Illinois the same year Isaiah staked his claim, and one of the parcels was less than a mile south of Potts' land. He and his associates were involved in the Illinois salt business as early as 1817. The road from Ford's Ferry to the Salt Works, upon which Potts' Inn was located, was very much a part of Ford's domain. That section of road from Potts' Hill to the ferry was called Ford's Ferry Road, along with the nearby Flinn's Ferry Road, which joined Ford's Ferry road just south of Potts' Hill, were particularly important to Ford's business interests, legitimate and otherwise. During the first three decades of the 1800's, "James Ford & Co." was a power to be reckoned with. Had Isaiah and Polly not been on friendly terms with Squire Ford, chances are they would have found it impossible to remain in the area as long as they did.
We often read today that Isaiah L. Potts was a member of Ford's gang. While this may be somewhat inaccurate, there is no doubt that Isaiah and Ford were closely allied in some respects. They had many unavoidable common interests. Both were Justices of the Peace, bonded to uphold law and order in their respective communities. Both were ferry operators, and both had a business interest in maintaining the roads that passed Potts' Tavern. Both, being permanent settlers, rather than transients, had an interest in protecting their names and reputations, as well as their legitimate business interests. If either of them engaged in habitual criminal activity, their long-term survival in the area would be doomed, as indeed ultimately turned out to be the case with James Ford.
Isaiah Potts was, at least to a degree, a partner in Ford's ferry business, and on this basis might have been considered one of the "Ford Ferry Gang."
"Know all men by these presents that we, James Ford, Moses M Rawlings and Isaiah L. Potts, are held and firmly bound unto William McCoy, County Treasurer in and for the county of Gallatin and his successors in office in the penal sum of one hundred dollars, well and truly to be paid to the said William McCoy and his successors... this 1st day of December, 1823
"The condition of this obligation is such that whereas the above bound James Ford hath this day obtained a license to keep a ferry on the Ohio River our fractional section of land seventeen, township 12, south of range 10 east of the third principal meridian in Gallatin County. Now if the said James Ford will keep said ferry according to law; and that he shall at all times give passage to all public messenger and expresses when required from time to time without any fee or reward for the same then this obligation to be void and of none effects or otherwise to remain in full force, power, and virtue in law." Signed by J. Ford, Moses Rawlings, and Isaiah L. Potts. (Nelson, Springhouse, Vol. 2 No.4, 1985)
This would clearly indicate that not only were Isaiah Potts and James Ford well acquainted, but that Isaiah, along with Moses Rawlings, a respected resident of Shawneetown, acted on Ford's behalf as guarantor and bondsman to obtain his license to operate his ferry service, giving his operation legal status on the Illinois side of the river. It would thus be clear that Isaiah and Ford were more than mere acquaintances and distant business associates.
Assuming that Ford was indeed guilty of some of the crimes attributed to him, the only question would be, to what extent did Isaiah cooperate with him and his allies in their illegal activities? Did he actively participate in the criminal depredations common to the area, and attributed to him by legend? Was he a willing accessory to crime, or was he merely hostage to the real perpetrators (as many settlers undoubtedly must have been), to the extent personal safety and survival may have required? It could very well have been that Isaiah and Polly Potts were friends of James Ford simply because circumstances at the time demanded it.
Before delving into speculation on these matters, let me give a short rundown of Isaiah and Polly's paternal pedigrees, in hopes of putting a human face on them in the context of history. I feel this is important to Isaiah and Polly's long-maligned public image. Both came from distinguished lines.
---
THE POTTS FAMILY
"Billy Potts was as big and tough and rough a man as ever betrayed a friend, fleeced a guest, kicked a dog, beat a wife, or emptied a quart... A curse and a fist in your face or worse was ever the way with Billy Potts."
Isaiah's ancestors arrived in Pennsylvania during the time of William Penn, and played a significant role in the settlement and development of that colony. There has been sufficient pride and accomplishment within the ranks of the Potts family to have rendered up several very comprehensive volumes of family history, making it a relatively easy matter to discover Isaiah's pedigree.
He was of Anglo-Welsh descent in that his ancestors had immigrated from Wales, England. The Potts families of Wales, however (according to Mrs. Thomas Potts James, in her Memorial of Thomas Potts, Junior, published in 1874), are believed to have immigrated to Wales from Germany about a century prior to the time Isaiah's ancestor moved to Pennsylvania. The Welsh Potts were Quakers and had suffered much persecution in England on that account, which is what prompted many of them to emigrate to the New World. That Isaiah's ancestors were among the first settlers in Germantown, Pennsylvania (which was initially a very German settlement in the New World), tends to indicate that the Potts family was quite comfortable settling among Germans rather than nearby English.
The genealogical trail begins with a Thomas Pott, of Llangirrig, Montgomeryshire, Wales, who was born about 1590. Thomas had a daughter named Anne Pott (born about 1612), who married a John Pott. They had a son named Thomas, born in 1632, who married an Elizabeth. They had a son named Jonas Pott, born about 1662.
Elizabeth was widowed in England, where her seven children had been born, and came to Philadelphia, Pennsylvania with all her children in tow. The name seems to have been rendered Potts after their arrival in the New World. They are believed to have arrived in 1698, on the ship "William Galley," and were among the first settlers of Germantown. Jonas was married twice, to two different Marys, whose last names are not known. Jonathan Potts, born in 1714, of Jonas' second wife, was Isaiah L. Potts' grandfather. Jonathan's son, David, born in 1751 in Germantown, Pennsylvania, was Isaiah's father. Isaiah's mother was Elizabeth Luna Looney (sometimes rendered Luney), daughter of Absolam Looney, from whom he took his middle name. Isaiah was their third or fourth child, probably born in Loudoun County, Virginia. The year of his birth is uncertain, but it is likely he was born about 1784 or before.
Jonas' brother, John, is believed by some to have been the grandfather of the famous Pennsylvania Ironmaster, John Potts, founder of Pottsgrove, (later Pottstown), and builder of Pottsgrove Manor which still stands in that town (though there is still some confusion as to the exact relationships between several Potts who landed in this country from Wales). This John's son, Isaac, was the owner of the house at Valley Forge where George Washington made his headquarters in the winter of 1777-78. It is also this Isaac who is believed to be the subject of the famous legend where a Mr. Potts observed General Washington in prayer at Valley Forge. John also had a son named David, a Philadelphia merchant, who owned an interest in the Valley Forge properties.
Most of the Pennsylvania Potts were Quakers when they arrived in America. As such, they can be considered to have been a peace-loving and law-abiding lot. However, among the society of Friends, religious principle took precedence over law and patriotism. Nonetheless, many Quakers took up arms in the Revolution. Many of those who did were disowned by the Meetings of Friends. As a result, he was probably disowned by his church. It is estimated that from four to five hundred Quakers were disowned for supporting the Revolution and only four for supporting the King. Isaiah's father, like many others in the family, chose to join the struggle for independence.
In any case, David converted to the Baptist faith. He learned to read after his marriage and it is said that he thereafter spent a considerable amount to time reading the Bible. In 1784, he received a hundred acres of military bounty land in Kentucky (then a county of Virginia), for his service as a soldier in the Virginia Continental Line. (A cousin, also named David, took up military bounty land in Ohio, as did other members of the Potts family.)
It is not known when David first crossed over into Kentucky to claim his land, but it appears all of his ten children by Elizabeth were born in Pennsylvania and Virginia. Elizabeth must have died during, or shortly after, the birth their tenth and last child, Rebecca, who was born about 1790. When David moved to Mercer County, Kentucky, he remarried to Martha (Tines) Short, a widow. David was about sixty years old when he remarried, but the the union produced one additional child, Joel.
Isaiah's brothers and sisters were: David, Jeremiah, Jonathan, John, Catharine, Mary, Margaret, Amy, Rebecca, and half-brother Joel.
Isaiah, a single man, followed his father and brother, David, to Kentucky. It seems he and his brother, David, must have gone first to Mercer County with their father, then moved on to Warren County where brother, David, settled. Ronald Nelson's research also revealed an Isaiah Potts paying taxes on 1000 acres of land in that county in 1809. Isaiah's brother, Jonathan, had also settled in Warren County, where a year earlier, Isaiah's nephew, also named Isaiah L. Potts, had been born.
Isaiah was in Union County, Kentucky, by the time he married Mary (Polly) Blue, in October of 1811. Theirs was one of the very first marriages in Union County, in the very year that county was formed. He is listed in the History of Union County as one of the first settlers in Bordley Precinct in which the settlement of Spring Grove is situated. It can be deduced that Isaiah Potts was considered quite a respectable young man at this point of his life. Otherwise it is unlikely that Polly's father would have given his blessing to the marriage which he apparently did, having signed the marriage document.
Possibly while living in Union County Isaiah became acquainted with John A. Murrell, who, tradition has it, was among the original squatters in the neighborhood (around Red Banks, later Uniontown), along with "the Vincents, the Masons, the Jeemes', the Carters, the Moulders, (who) made up the original inhabitants." (History of Union County)
---
THE BLUE FAMILY
"He had a foul-smelling little dark wife with a wart on her nose the size of a cockroach and a tongue in her mouth that would peal the paint off a church."
The Blues, like the Potts families, take a great deal of interest in their family history and their genealogy may be found on The National Blue Family Association Homepage on the Internet.
Polly's ancestors immigrated to New York (once, New Amsterdam) from the Netherlands, and the genealogical trail begins with a John Blaw, who died in New Jersey, in 1757. John had a son also named John (b. about 1691, d. 1770), who married Cattron Van Meter. They first lived in New Jersey and then moved to Hampshire County, Virginia. John and Cattron's third child, Uriah, was born in 1726. Uriah married a Mary Jordan in 1747 and produced a son named James J. Blue, born in Berkeley County, Virginia in 1748. James Blue married Margaret Kearney in 1773. James and Margaret were Polly's parents.
Like Isaiah's parents, James Blue had migrated from Virginia to Kentucky, probably some time before 1803. It has been claimed that James had been with General Washington at Braddock's defeat. If this is true, and his birth date is accurate, he was only seven years of age at the time. Perhaps he was a drummer boy or a very young orderly. In any case, he was a captain in the Revolutionary War. According to the genealogical record, he obtained a 300 acre grant on the Tradewater River in Kentucky on May 13th, 1785. On April 18th, 1800, he obtained an additional 200 acres in Henderson County, Kentucky on Cyprus Creek. He obtained yet another 400 acre grant on the Caney Fork of the Tradewater River in Henderson County. He apparently settled at Spring Grove, about half-way between Shawneetown and Morganfield, where his son Solomon attended school. James Blue seems to have been an energetic man who acquired much property and influence in western Kentucky (in what are now Christian, Caldwell, Crittenden, Henderson, and Union Counties).
Polly (Mary), was the third of nine children born to James and Margaret Blue. She was born in about 1794, probably in Berkeley County, Virginia. (The Blue genealogy gives he birth as 1777, but other sources indicate she was 17 years of age when she married). This, along with her marriage to Isaiah Potts, is about all we know about Polly. The genealogical record states only her birth year and that she is buried in Gallatin County, Illinois.
Polly's siblings were William, Uriah, Nancy, James, Jr., John, Margaret, and Solomon. Though little is known of Polly's sisters, all of the males of the family distinguished themselves in one way or another. James, Jr., became sheriff of Union County in the 1820's, and died in Caldwell County in 1848. William, Uriah, John, and Solomon took an interest in military affairs.
William Kearney Blue (1774-1802), served with General Anthony Wayne in 1793 at Fort Greenville as a Colonel of Light Dragoons, and was military escort of John Brickel in the Northwest Territory in 1795. He was Captain in the 7th Infantry in 1799, and honorably discharged in 1800. He was killed in a duel at Fort Washington, Ohio, in 1802.
Uriah Blue (1775-1836) joined the regular army and held a commission as a colonel. He was Sheriff of Henderson County, Kentucky at one point. He fought through the Seminole and Florida war, and was with General Andrew Jackson at the Battle of New Orleans. He later died of illness while serving as commanding officer of the military garrison at Mobile, Alabama. (Kentucky: A History of the State, Battle, Perrin, Kniffin 2nd ed., 1885, Crittenden County.)
The Pensacola, Florida, Web Page, under the title "Dateline Pensacola," for the year 1815, states: "Major Uriah Blue and Davy Crockett drove Red Stick Creeks (warriors) from the land between Escambia and Yellow Rivers." Colonel Blue is mentioned twice in The Life of Davy Crockett, Crockett's autobiography.
Coincidentally, Amos Potts, one of Isaiah's cousins from Tennessee, also served under Major Blue at Fort Montgomery, Alabama (Joseph Reichel's history of the Potts family).
John S. Blue (1784-1840) is listed in the family genealogy as a Colonel, perhaps in the Kentucky militia. He might also have served in the War of 1812. Union County was formed from part of Henderson County in 1810-1811. John was commissioned a Justice of the Peace in Union County at the first court in January of 1811. He was also on the committees to fix the site for the public square and plan and let contracts on the public buildings in July of the same year. (History of Union County)
Polly's brother, Solomon David Blue (1788-1868), served in the War of 1812. As he is described in a biography in the History of Union County: "Major Blue, as all of his day called him, was a man in more than one sense, brave, generous and true, a man of fine size, muscular, as straight as an Indian, of indomitable energy and perseverance... He was a good talker, fond of company, and loved his friends. At his death he possessed considerable real estate, and left his children independent. It is needless to say more, perhaps, only it is impossible to conjecture to what eminence he might have attained had he been educated."
After his return to Kentucky after the War of 1812, Solomon became active for many years as a colonel in the Kentucky State Militia. He was a farmer in Union County and a prominent citizen, living to a ripe old age. He died at the age of eighty-four, in Morganfield, Kentucky. His descendents also became prominent citizens in the area. His son, James Barnwell Blue became County Road Supervisor and a state legislator.
Solomon's reputation may stand somewhat sullied, however, in view of information published by Jon Musgrave in his 2004 book, Slaves, Salt, Sex & Mr. Crenshaw, indicating (to quote Musgrave), "As late as 1850, Solomon Blue operated a slave-trading agency based in Shawneetown." (Musgrave's source was the Mississippi Valley Historical Review. "Slave Trade Between Kentucky and Cotton Kingdom." December 1934). This would have been legitimate business at the time, and Solomon probably acted as a business agent providing contracted slaves for the Salt Works.
---
In 1816 and 1818 Polly's father, James Blue, purchased land near where Raleigh, Illinois, was later established. In 1816 he had petitioned Congress for permission to establish a public house on the government reservation connected to the federal Salt Works near Equality. It appears that James Blue moved to Illinois some time after Margaret's death in 1810, and lived somewhere on the Saline Reservation in 1816. In the Illinois Territorial Papers, dated 10 December, 1816, appears: "Memorial to Congress by inhabitants of Gallatin County, asking that a lease be given to James Blue... Said Blue is well known in the area and was unable to apply for preemption of the property, as he was residing in the Saline Reservation." (Nelson, "In Search of Billy Potts, Springhouse Vol. 2, No. 3) Apparently the petition was not granted, or was not acted upon, and James returned to Union County, Kentucky before his death. When James died in 1819, Isaiah and Polly sold their share of his estate to Solomon.
I include such lengthy mention of the Blues by way of character references on Isaiah and Polly's behalf, for it appears that the Blues were singularly respectable. Solomon seems to have remained a staunch friend to Isaiah right up until the time Isaiah completely disappeared from the public record.
Isaiah was among Southern Illinois earliest permanent settlers, for "not until 1812-1814 could land be bought in Southern Illinois... in 1814 a government land office was established in Shawneetown." It was in that year, on November 2nd, that Isaiah acquired his initial 160 acres at Potts' Hill. He paid $2.00 an acre at that time when the Illinois lands were first being sold. The property was at a prime location near where several old Indian trails crossed at a spring where, only a few years before, an Indian village had been located. Though most of the Indians had removed westward, there were undoubtedly a few hold-outs in the area (known as "stowaways," having eluded removal), when Isaiah arrived. As favorable as Isaiah's location was, the area had gained a sinister reputation long before his acquisition. According to the 1939 Centennial History of Hardin County, Illinois ("Prehistory of Hardin County," written by Judge Hall):
"The Saline and Ohio rivers were the main avenues of trade between these cities." (the Shawnee cities at Shawneetown, Equality, and Tolu, Kentucky) "...But the main land trail which traversed our county began at Equality proceeding southeastward to the Salt Spring, where it was joined by a branch trail from Shawneetown. From that juncture it proceeded to Potts Hill Spring, where there was a village... and from time immemorial has been known as Shawnee Hollow Trail...
"If we may rely upon the traditionary (sic) history of Shawnees, that 25-miles of path was famous as a war-path. Here Cherokees and other tribes driven southward met their Waterloo defeats under such famous Shawnee Chiefs as Logan the Eloquent and Tecumseh the Wise. Here also that favorite path was marked and colored with blood when Shawnee later clashed with Big Knives...
"...Whole families weirdly disappeared on that road never to be heard from again. Virtually every mile of it has its murder story as well as its ghost story. The folklores of three races of mankind which occulty (sic) hover about that most notorious path in the Mississippi Valley are hoary and bloody, fantastic and marvelous. In Indian days as well as in pioneer days it was also spoken of as 'the Road of the Werwolf.' ...Honest pioneers from that race of men honored for truth and veracity claim that at least three men at different times had tried to kick the Werfolf off Fords Road, but that their home-made boots slipped through that vicious-looking animal as if they had kicked through a shadow. Many a brave Red Man and sturdy White Man have taken to forest paths travelling some distances around rather than tread the dust of that Werwolf Road after sunset. Nevertheless that 25-miles did not cease to flow with human blood even after Indians were gone...
"...(B)ush-whacking warfare continued in Hardin County till 1813 bloodily fought between three tribes in their free-for-all war. These were the Cherokees, the Shawnees, and the Big Knives (White settlers)."
A log cabin, perhaps a remnant of the Indian village or a trader's cabin, had stood on the property prior to Isaiah's time, and had been the site of an avengement murder some years before Isaiah's arrival, as well as earlier killing.
"It's not known when Potts built his inn, but a cabin stood on the site as early as the first decade of the 18th Century. Here, the male kin of a kidnapped/eloped young woman caught up to Moses Steagall and the would-be groom and shot the pair. In August 1799, Steagall had rode with the posse chasing the notorious Harpes after they killed Steagall's wife and son. After capturing Big Harpe, Steagall cut off the outlaw's head. Earlier that spring, after the Harpes escaped from the Danville, Kentucky jail they crossed over into the Illinois Country. They murdered two or three hunters on Potts' future plantation before joining the pirates at Cave-in-Rock." (Illinois History web pages by Jon Musgrave)
Just when Isaiah and Polly moved from Union County, Kentucky to Potts' Hill is uncertain. Probably in 1814 or 1815. The house that Isaiah finally built (if it resembled the building that survived until 1937), was a pretty impressive affair, especially as frontier "inns" went in that day and time, boasting two stories with upper and lower covered porches running its full length. Though it has been described as a frame building in at least one account, it was probably a log structure, later covered with "weather boarding."

THE BLUFFS THAT WITNESSED ALL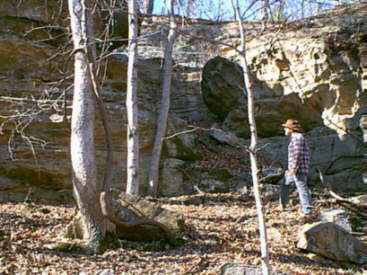 What dark secrets might these rocks withhold?
Potts Spring is just behind the photographer in this view.

As early as 1813, a ferry was operating across the Saline River not far from Potts' Hill. Court was first held in Shawneetown on May 24th, 1813, on two flatboats moored together at the bank. At that time, "...a tax of $2 per year was levied on a ferry operating next above the mouth of Saline Creek." (History of Hardin County, 1939) It is not known whether Isaiah was the one who established the ferry, but he probably did. In any case, sometime prior to 1818 (when it has been estimated that only four to five hundred people lived within the present boundaries of Hardin County), Isaiah had taken over operation of the ferry. Gallatin County Court records of 23 November,1818, in a matter concerning the marking of a new road from Golconda to Shawneetown, mentions, "passing A McElroy's to Potts' Ferry on the Saline Creek..." (Nelson, Springhouse, Vol. 2, No. 3) The ferry site was a little over a mile from Isaiah's property.
On June 7th, 1819, Isaiah was appointed supervisor for that portion of Flinn's Ferry Road, from "Powell's Cabins," (between the Ohio River and Potts' Hill), to where it crossed Beaver Creek, about a mile north of Potts' Hill. Being a road supervisor was no small responsibility. The subject stretch of road was several miles in length, and there was no large state highway department at Isaiah's back. It was Isaiah's job to single-handedly motivate local residents within certain bounds mentioned in the appointment, to get out and work on his section of the road when necessary. Since the population was sparse anyway, labor would certainly be difficult to come by. Since there is no mention of payment to the help, it must be assumed that work on the road was a form of civic duty in lieu of taxation, and thus was probably about as easily extracted as teeth. Apparently Isaiah performed satisfactorily, as he was reappointed supervisor in June of 1820.
Judge James Hall refers to the section of road from "Flynn's Ferry to Saline Tavern" and, "At this time the court order the road established as a public highway with Hugh McConnel appointed supervisor of stretch from the ferry to Powell's cabins, Isaac Potts supervisor from there to include the crossing of Beaver Creek, John Black thence to Eagle Creek, and Robert Watson (supervisor) on the intersection with road from Shawneetown to Saline Tavern." (History of Hardin County, 1939) It is not known whether the Saline Tavern to which he referred was Potts' Inn, or if there was another tavern at the Saline River. In all probability it was another name for Isaiah's establishment.
On March 7th, 1820, Isaiah was called upon to adjust the accounts of the overseers of the poor in Rock and Cave township for the previous year. (Nelson, Springhouse, Vol. 2, No.3, 1985) So, six years after Isaiah's acquisition of his Illinois property, he was still considered trustworthy enough by the community to look after the interests of the poor on behalf of those two townships.
Isaiah was first commissioned Justice of the Peace for Gallatin County, on February 1st, 1821. Thus, at about 37 years of age, he officially became "Squire Potts." The office of Justice of the Peace was pretty important and prestigious in Isaiah's day. A J.P. was a "judicial magistrate," or early peace officer, which carried many responsibilities. Among other things, a Justice of the Peace was empowered to perform marriages and act in the capacity of judge, holding court in civil and minor criminal matters.
The 1820 census of Isaiah's household included two "servants or slaves." Before researching the Potts genealogy, I'd always been rather confident in my belief that my ancestors were more likely to have been indentured servants than slave-owners, but it appears Isaiah (and thus probably some of my direct ancestors), may have been part of the "slavocracy." In any case, it appears that Isaiah freed his two slaves. The Illinois Servitude and Emancipation Records 1720-1865, indicate that an "Ailsy," a female negro, was emancipated by Isaiah on June 16th, 1834, and Mary, a mulatto, was emancipated on October 7th, 1836.
The Blues are also known to have been slave-owners, and, in the case of Polly's brother, Solomon, a slave trader. The History of Union County Kentucky relates a story of an old slave, the property of Mr. David Blue (probably Polly's Uncle). "She was very old, crooked and feeble, and had been to the spring, and when returning she was followed by a big bear. Her master saw the bear, and cried out: 'Look behind you, Jin!' She turned and saw the bear, and her infirmities were immediately forgotten, so that she ran with alacrity to the house to escape the great beast..."
The same source mentions that, in about 1840, two slaves belonging to Col. John Blue (probably Polly's brother), were drowned, along with a third slave, while attempting to cross the Ohio in a skiff. The three men had been on a mission to Shawneetown to obtain consent for one of them to marry, from the mother of the intended bride, who also belonged to Col. Blue.
Of course, we tend to forget that not all slaves or servants were Negroes. This is shown at one point in Polly's genealogy: "On March 28, 1754 the following appeared in the Pennsylvania Gazette: 'Thomas Donaldson, Irish servant, ran away from Uriah Blue (Polly's grandfather) near White Clay Creek in Mill Creek Hundred, New Castle Co...'"
---

In 1825 Isaiah added to his land holdings with the purchase of 80 acres of land, adjoining the west side of his previous property. This gave Isaiah a total of 240 acres of prime bottom and forest land. Obviously, at this time, Isaiah's star was still rising. Apparently he and Polly were enjoying some degree of prosperity with their Potts' Hill holdings and ferry business.
A mile or two north of Potts' Hill, the road to the Salt Works forded Beaver Creek. In 1830 Isaiah and Joseph Robinett applied for a permit to build a toll bridge across it. Apparently the permit was approved. (Nelson, Springhouse, Vol. 2 No. 4, 1985) If it was built, Isaiah had another enterprise to his credit.
According to Jon Musgrave, in Slaves, Salt, Sex & Mr. Crenshaw, Robinett and Isaiah built and ran the toll bridge, and Musgrave also notes that three of Robinett's daughters married three of Isaiah's nephews, indicating that several of Isaiah's family had also probably moved to Illinois from Kentucky by that time.
Isaiah's father, David, died in 1824 in Mercer County, Kentucky. His elder brother, David, died in Warren County in 1830, leaving a wife, Mary, and six children. This David's eldest son, also named David, was (46) sixteen years old when his father died. It was probably this nephew David who joined Isaiah and Polly at Potts' Hill and took an interest in the ferry operation. A David Potts is mentioned in the public record in connection with the ferry in 1831. Perhaps young David had become Isaiah's ferryman. There was, however, another David Potts in the area, who married a Margarette C. Christian in Union County in 1822. (History of Union County Kentucky) At this time the present writer does not known who this David Potts was, or whether he was closely related to Isaiah.
On January 6th, 1832, Isaiah apparently had a violent argument with a Nathaniel Simpson and his son, John, in the public highway at Potts' Inn. Simpson filed an official complaint in a letter to Gallatin County District Attorney, Henry Eddy, dated January 12th, in which he claimed Mr. Potts had assaulted him violently both verbally and physically. He said Isaiah had struck him with a pole, and threatened to kill both he and his son. Nathaniel apparently wasn't well acquainted with Isaiah, since he did not know his given name. He assumed it was the Mr. Potts, who was the Justice of the Peace, and the "same who keep tavern on the road from Fords Ferry to Equality."
This incident doesn't reflect well upon Isaiah, but there would likely have been a cause for the incident which Simpson neglected to mention in his letter. It is not known whether or how Nathaniel was related to Ford's ferryman, Vincent B. Simpson. Perhaps there had been a long-term rivalry between the two ferrymen, and Nathaniel somehow entered into it. Ford had a falling out with Vincent Simpson in 1829, when he had brought suit against him in a dispute over the purchase of a slave. It is possible that the bad blood rising between the Fords and Simpson had somehow broadened into a larger feud by 1832, involving a wider circle of participants than the public record reveals.
David Potts died at Potts' Hill in April of 1832, apparently having drowned under suspicious circumstances which prompted a coroner's inquest. A Dr. Alexander Posey performed a post mortem examination. How David died is not known, but (if he was Isaiah's nephew), he would have only been about 18 years old at the time. Perhaps Isaiah called for the examination because he suspected foul play. If so, that suspicion might have somehow been tied to the Simpson quarrel only a few months earlier.
Jonathan Potts, probably Isaiah's older brother, was living in nearby Union County. Isaiah paid him $5.00 to make David's coffin. Isaiah, who was appointed administrator of David's estate, charged the estate $200.00 "for washing, boarding and lodging for 2 years." (Nelson, Springhouse, Vol. 2, No. 3, 1985) This would indicate that David had lodged with Isaiah and Polly for at least two years prior to his death, which corresponds with the time of his father's death two years earlier.
There are some very perplexing ambiguities in Joseph J. Reichel's genealogical account with regard to Isaiah's elder brother, David Potts, Jr. Of this David he says: "4 viii David Potts, Jr., b 1784; d 1830, Warren Co., KY." Then, a subsequent paragraph on this David reads:

4. David Potts, Jr. was born 1784 and died 1830 in Warren County, Kentucky. He married Mary Thompson 21 January 1808 in Mercer County, Kentucky. Mary was born in Warren County, Kentucky, daughter of George and Elizabeth Thompson. Mercer county deeds clearly show his relationship to David, Sr. David Jr. was drowned in either the Ohio or the Mississippi River around 1830. "He had five hundred dollars and was going to Illinois or Missouri to find a
new home." ... (Data based on research and narrative by Mildred Eubank...).
"4. David Potts, Jr. was born 1784 and died 1832 in Warren County, Kentucky... Mercer County deeds clearly show his relationship to David, Sr. David Jr. was drowned in either the Ohio or the Mississippi River about 1830. 'He had five hundred dollars and was going to Illinois or Missouri to find a new home.'..."
This is perplexing not only because it gives two different years of death for the same David Potts, Jr., but because he appears to be referring to two David Potts, Jrs., and does not clarify the discrepancy. Of course, David Potts, Jr.'s eldest son was David A. Potts (Who might have also been called David Potts, Jr.) – but Reichel records this David as being born in 1814, marrying Mary Rizer on 28 October 1841 in Logan Co., KY, and "...lived in Logan Co., KY and was killed there in a hunting accident, with no date given.
It could not have been this David Potts who I have speculated died at Potts' Hill in April of 1832 at the age of 18. Clearly, he could not have died there in April of 1832 if he married in 1841 and died later in a hunting accident. On the other hand, the "other" David Potts, Jr. alleged to have drowned in either the Ohio or Mississippi River "about 1830" (whoever he was), who fits into the Potts' Hill death. This other David Potts, Jr. could very possibly have drowned in the Saline River (near the banks of the Ohio), in 1832 rather than 1830, while on the way to find a new home in Illinois or Missouri. He may have found a new home and remained at Potts' Hill for two years as Isaiah's ferryman.
Unfortunately, Reichel doesn't give a source for his very positive statement, "It is known that David's son David Jr., did drown in either the Ohio or the Mississippi around 1830."
It is also very interesting to note that this David is alleged to have "had five hundred dollars and was going to Illinois or Missouri to find a new home." Such a person, with heavy money bags, would have been a prime candidate for robbery and murder by the Ford Ferry gang or the legendary Billy Potts. Could it have been the death of this David, with his five hundred dollars, that somehow coalesced into the seed that developed into the Legend of Billy Potts over seventy years later?
There is even the possibility that he did meet with foul play and may have drowned in the Saline or Ohio river at the hands of the Ford Ferry gang or his Uncle Isaiah. Perhaps he had returned to his home in Kentucky, and returned with his five hundred dollars to set up a new home and was a sitting duck upon his return trip across the Ohio River.

---
Against these many small items we actually know about Isaiah's career at Potts Hill, and the speculation they arouse, there are the legends of Potts' Inn and Billy Potts, which seem to run counter to the facts. Obviously, uncle Isaiah was not "Billy" though many writers of frontier history have insisted on giving him that name. Nor do we know that Isaiah had a son of that name, or that he had any natural children at all. He is known to have adopted a child in 1833, by the name of Viola Ellis, but nothing is known of her or the circumstances of the adoption.
(Dec. 2004 NOTE: Jon Musgrave, in his 2004 book, Slaves, Salt, Sex & Mr. Crenshaw, mentions a William Ellis who lived "in the eastern portion of modern day Hardin County joined Capt. Barker's (militia) company around April 1, 1813" (to guard against Indian attacks). Perhaps twenty years later Viola was an orphaned member of his or a related family. In the Appendix of Musgrave's book, under the heading "Kidnappings," another "William Ellis family," of Williamson County, is mentioned, with "possibly 5 victims" [of Negro kidnapping], between 1850 and 1859. Apparently, this would be another William Ellis family of African-American extraction, and the years indicates that Viola wouldn't have been one of their children.)
That all the stories of Potts' Inn and the Legend of Billy Potts invariably refer to the elder Potts as Billy (or "Willie," in the case of John W. Allen, in Legends & Lore of Southern Illinois), is the first big hint that the legends fail to meet the first and most basic tests for veracity. Though William is a very common name, it was not all that common amongst the Potts families of Isaiah's line and era. Ironically, however, Isaiah's nephew of the same name, did have a son named William Woodring Potts, who may have taken up residence in Illinois, but he would have been too young to have been the subject of the Billy Potts legend, and is known to have married and had children.
Nobody has ever been able to prove that a Billy Potts ever existed at Potts' Inn, though it certainly isn't beyond the realm of possibility that Isaiah and Polly had a child of that name. Nor is there any plausible reason to believe Isaiah went by such a nick name. If Isaiah and Polly were childless, it would hardly be in keeping with the tenancy of most families of the day to produce large numbers of offspring. Of course, there is always the possibility that Polly was unable to have children. The only evidence that Isaiah might have had a son named Billy appears in accounts written almost a century later. As far as I have been able to determine, the story of Billy Potts first appeared in The Outlaws of Cave-in-Rock, by Otto A. Rothert, in 1923.
One of the most interesting mentions of a Billy appears in Elihu N. Hall's work, Anna's War Against River Pirates and Cave Bandits... where it is said that "Mrs. Potts became mistrustful of Squire Potts and left home, taking 'little Billy' with her." (Nelson, Springhouse, Vol. 2, No. 3, May-June 1985) but this account was apparently written after Rothert's work. Unfortunately, Hall's work is not noted for its historical accuracy. However, most of his errors seem to be in the shuffling of dates and events rather than the names of characters.
Ronald Nelson's research did reveal that Polly sued for divorce in Gallatin County in 1834. Isaiah entered into an agreement, apparently brokered by his brother-in-law, Solomon, to pay Polly $1,000.00. This was a pretty large sum in those days, and thus raises some interesting questions. The divorce motion was withdrawn, but their is no evidence that Polly ever returned to her husband. The genealogical record of the Blue family says Polly was buried in Gallatin County, however, so she apparently did not return to her relatives in Kentucky. It is probable that she had relatives living in Illinois at the time.
The mention (in the History of Union County Kentucky), of a slave belonging to Col. Blue, living in Shawneetown, would seem to indicates that some of the Blue family must have lived in Shawneetown. Thus it may have been to these relatives that Polly moved after leaving Isaiah, explaining why the family history indicates she was buried in Gallatin County. The fact that Solomon was said to have "operated a slave trading agency in Shawneetown," is another indication that the Blues had an established presence in that town, though most, including Solomon, appear to have remained officially domiciled in Kentucky.
A known "slave trading agency," allegedly operating in Shawneetown as late as 1850, may at first seem rather peculiar, given that slavery had been "officially" illegal in Illinois for some twenty-five years by that year. But slave indentures remained legal within the U.S. Saline Reservation to provide labor for the salt works. Presumably, Solomon's agency would have served that trade, supplying a flow of indentured or contracted slaves to and from Kentucky, where slavery remained legal until the Emancipation Proclamation.
Subsequently, and probably as the direct result of the settlement with Polly, Isaiah became impoverished and lost all of his property. His land was sold at auction to satisfy a judgment lodged against him by John Siddall and an Edward Jones, of Gallatin County. John Siddall, was the highest bidder at the auction, held on January 10th, 1835, purchasing the land (for which Isaiah had paid $420.00), for slightly over $70.00. Since there were considerable improvements to the property, $70.00 seems to have been an unrealistically low price. Perhaps there had been some sort of a gentleman's agreement between Isaiah and Siddall. In any case, Mr. Siddall must have been somewhat friendly to Isaiah in spite of the action, for not only had he and Jones apparently loaned Isaiah a considerable amount of money, which Isaiah had been unable to repay, but he apparently allowed Isaiah to continue to occupy his home at Potts' Hill.
This followed a tumultuous period which saw the end of organized outlawry in the region. Ford's two sons, Phillip and William, reputed to have been chips off the old block, had died in November of 1831 and November of 1832, respectively. Some accounts claim they died of illness, others that they were killed. In any case, they both had the forethought to make their wills shortly before their death. Then Ford's former ferryman, Vincent B. Simpson, had been shot by Henry Shouse on June 30th, 1833. It was widely believed that the murder was committed at the behest of James Ford. Apparently it set off the chain of events that doomed James Ford. He was killed by regulators (which included former friends), on July 5th, 1833. It seems nobody was charged in Ford's murder, but Shouse was hanged for Simpson's murder at Golconda, on June 9th, 1834. Further south, the career of John A. Murrell was coming to a close.
Isaiah's downturn in fortunes at this particular time would give the appearance that they may indeed have been tied to the fortunes of the area's banditti, but the thousand dollar settlement with Polly was undoubtedly its most significant contributing factor. As mentioned, the amount of Isaiah's settlement with Polly was enough to raise some interesting questions. Could Polly's mistrust of Squire Potts have been somehow tied to these other events? If so, how? Had she only recently become aware of Isaiah's alleged outlaw associations? Was she fearful that the regulators were closing in on Isaiah too? Was the large settlement really extortion to purchase her, and maybe Solomon's, silence?
These questions provide fertile ground for speculation, but, except for the considerable cost of the loss of his wife and title to his property, Isaiah apparently came through the crisis relatively unscathed. Records show that he remained engaged in public affairs at least until 1837. In 1836 he signed a petition for a new county to be formed from Pope and Gallatin Counties, to be named "Ohio County." The proposed new county was later established, but it was named Hardin County. In 1837, Isaiah was listed with commissioners "to locate state road Shawneetown to Golconda, to meet at the house of Isaiah L. Potts..." (Nelson, Springhouse Vol. 2, No. 4, 1985)
Would the home of a known, or even suspected, outlaw have been selected for such a meeting? Would a suspected murderer have been a member of such a commission? Highly unlikely. Apparently Isaiah was still considered a respected citizen at this late date of his career.
Only a year earlier, Isaiah still owned a mulatto slave named Mary, whom he freed on October 7th, 1836. (Illinois Servitude and Emancipation Records, Illinois State Archives — Internet)
Regardless of Isaiah's respectable roles in the community, it seems he may have been considered, "of the right stripe" among the principal outlaw organization of the day, prior to 1835. An "L. Pots," of Kentucky, appeared on a list of "friends" of John A. Murrell, recorded in 1834 and later published by Virgil Stewart, who was instrumental in bringing Murrell to justice. L. Pots may or may not have been Isaiah. As mentioned above, Isaiah may have met Murrell while he was still a resident of Red Banks, and may have given Stewart only the initial of Isaiah's middle name. Of course, Isaiah had been a Kentuckian when they were neighbors, and maybe Murrell was unaware that Isaiah had moved to Illinois years earlier. Of course, it is also possible that Murrell, like many of the day, had a rather broad definition of "Kentucky." The term Kentuckian, or Kaintuck, was commonly applied to everybody from the Ohio Valley region. The Ohio River was not the stark political boundary that it is today.
On the other hand, it is possible that Murrell's "L. Potts" could have been the young Isaiah L. Potts who was the nephew of the Potts' Hill Isaiah, and living across the river in Kentucky. In 1834 this Isaiah, who was this writer's direct ancestor (born in 1808), would have been 26 years of age. Then, again, there may have been a Potts in western Kentucky whose first name began with L. However, I have been unable to find such a person in our particular Potts line.
This possible inclusion on the list of associates of the terror of Natchez Trace may have contributed to the suspicion with which Isaiah seems to have been later regarded. Stewart's list contained a surprising number of names (452 in all, given in The Devil's Disciples, by Wellman), and clearly not all of them were active highwaymen or "Mystic Clan" members. Nor could they all have been co-conspirators in Murrell's alleged scheme to set off a slave rebellion. Many were known (or thought), to have been quite respectable citizens. Some were literal pillars of their respective communities. Yet they may have provided safe havens or lodging from time to time to Murrell associates. This could have been through fear, or merely a requisite of early frontier survival during a period when organized "power" was in the hands of bands of desperate characters. Isaiah's necessary association with James Ford might have been sufficient for him to be considered one of Murrell's friends. Ford's name did not appear on the list, but this could be because Murrell knew Ford had already been killed.
Virgil Stewart, himself, was suspect. According to the story told by Wellman, he received the names from Murrell while on the trail only a few days after they had met. Stewart supposedly recorded the names in his notebook as Murrell listed them from memory while they were on horseback. This feat is a little difficult to believe, and it is also difficult to believe Murrell would have entrusted such information to a new acquaintance if the great land pirate was as smart as he is reputed to have been. Be that as it may, many people, both on and off the list, had obviously cause to wish to see Stewart discredited. In The Devil's Backbone, the Story of the Natchez Trace, by Jonathan Daniels, one "Claiborne wrote later that Stewart was 'a notorious scamp.'"
"'The whole story was a fabrication,' he wrote, in 1860, when a greater and sadder revolt was about to begin. 'Murrell was simply a thief and counterfeiter, and Stewart was his subordinate, who, having quarreled with him, devised this plan to avenge and enrich himself...'"
---

Before his apparent fall from grace, Isaiah was certainly a man of public affairs with a strong sense of civic duty. Maybe he did provide occasional sanctuary to outlaws, and could be trusted to keep his mouth shut. But there is apparently no record of him ever having been indicted or tried for a crime. There is no contemporary scrap of evidence to prove that he was ever even strongly suspected of a specific crime while he lived at Potts' Hill. Nonetheless, there is no doubt that Potts' Inn had managed to gain a rather strikingly sinister reputation, at least in later years.
Since this is admittedly a friendly treatise on Isaiah and Polly, let me explain how Potts' Inn might have gained such a reputation, assuming they were not parties to any of the crimes of the nature now commonly attributed to them. Beside the reasons given above, which may have technically made him an accessory to the fact in illegal activities, others were known to actively engaged in criminal activity around Potts' Hill. One such gang was a bunch led by a Nysonger and Dr. King. They operated for some time in the vicinity of Potts' Hill, in about 1819. A Hardin County Independent article, dated December 2 and 9, 1920 claims they lived on Potts' Hill. "There, men robbed, stole and were killed..." (Nelson, Springhouse Vol. 2, No. 4, 1985)
Though Isaiah was apparently not implicated in their activities, the proximity was certainly close enough to give Potts' Inn a bad name and cast a strong pall of suspicion upon the hill's namesake. Crimes committed from a base on Potts' Hill, in the minds of some, would naturally tend to reflect poorly on Isaiah's establishment at the foot of the hill. But what can you do when the neighborhood goes to hell?
As for all the travelers alleged to have disappeared at Potts' Inn (no number or particulars have ever been given), it is quite easy to speculate that anybody who came up missing between Ford or Flinn's Ferries and the Salt Works and Shawneetown, or between Golconda and Shawneetown, might have disappeared at Potts' Inn. As mentioned, the Potts' establishment was at an isolated place at the crossing of the roads connecting those locations. If the Ford Ferry gang did away with any northbound wayfarers, and were later questioned about the disappearances, Ford's men would have undoubtedly said "The party in question was last seen safely on his way to points north." Potts' Inn happened to be on the route they must have taken, thus it is easy to see how suspicion would fall in Isaiah's direction. In the case of southbound travelers who met their fate somewhere on the Ford or Flinn's Ferry road, Ford's men would simply say they had never seen them.
The stories claim that Ford sent spotters and advance men to inform Isaiah of likely prospects for murder and robbery. But it seems unlikely that Ford would have referred business he and his own gang were probably much more capable of taking care of themselves. The scene of Isaiah and Polly frequently butchering up multiple wayfarers in their own home hardly seems believable.
"At Potts' Hill, or before reaching that wayside tavern on the south hillside, the newcomer was either robbed or permitted to continue his journey unmolested. It is said that many a traveler who was found weak and destitute by the 'strangers' was given money and other help by them. On the other hand, the traveler who exhibited evidence of wealth and prosperity almost invariably met his fate along the road, at the ferry or at Potts' Hill...
"Billy Potts was the strategist on whom the highwaymen relied as their last and best man to dispose of any encouraging cases that had not been settled before they reached his house. Potts, by one means or another, succeeded in persuading the selected travelers to remain all night at his inn. His log house was large and comfortable and stood near a good spring which, then as now, offered an abundant supply of water for man or beast. Tradition say many a man took his last drink at Potts' Spring and spent his last hour on earth in Potts' house..." (From The Outlaws of Cave-in-Rock, by Otto A. Rothert, 1923, as republished in SH v15n1 1998).
Could it be that Isaiah and Polly Potts engaged in the kind of good Samaritanism suggested by Rothert above? I find it more likely that the helping of poor strangers was much more common on the frontier than the robbing of the rich. It would be fairly certain, in any case, that both Ford and Isaiah would be very careful to protect their "good names" and family reputations. This would dictate that robberies and murders, whoever committed them, would be very few and far between. Victims would have to have been selected very carefully. Unlike the outlaws and river pirates who did steady business for only a relatively short while and moved on, both Ford and Isaiah had fixed abodes, and lived in the area for many years. Isaiah was a resident of the area from about 1814 to at least 1843, a period of 29 years, and possibly a few more. It is highly unlikely that the regulators would have left him unmolested for such a period if he really was the "strategist on whom the highwaymen relied." They did catch up with James Ford, but why didn't they catch up with Isaiah? Because, perhaps, Isaiah simply wasn't what legend has painted him. In short, it is likely that "Billy" was the later invention of a legend-maker.
Unlike isolated Isaiah, James Ford was apparently able to raise a small army at any time. On occasion, after there had been a particularly outrageous (or embarrassing), crime in the area, it is said Ford would lead his men in pursuit of the guilty parties, often returning to announce that the culprits had been overtaken and dealt with, or at least run out of the country. It is believed that many of those Ford "ran off" where members of his own outlaw associates. When this happened, they may have been sent, under Ford's protection and instructions, to safer territory to the south, perhaps to join Murrell's riders then operating on the Natchez Trace. In this manner, Ford was able to appear to be an effective champion of law and order, whereas Isaiah was unable to bring such favorable acclaim to himself.
In comparing the financial rewards of the alleged outlaw career of Isaiah L. Potts to that of James Ford, we find that the latter died leaving an estate of close to $22,000.00 (a hefty sum in those days), whereas Isaiah went bankrupt after a thousand dollar settlement with Polly. (Nelson, Springhouse, Vol. 2, No. 3) And it appears Isaiah had to borrow much of the money for his settlement with Polly. Obviously Isaiah could not have robbed many wealthy travelers. If Isaiah and Polly prospered during their first two decades at Potts' Hill, they only prospered modestly — so modestly, in fact, that they might even have come by their gains honestly.
At least once, however, Isaiah found himself in a dangerous situation fighting on the side of the law. This was in June of 1822, when a posse led by Circuit Attorney, James Hall, of Shawneetown, had arrested the suspected counterfeiters, Roswell and Merrick Sturdivant. Hall and his men had taken the two prisoner that morning at their fortified home, called Sturdivant's Fort, on the banks of the Ohio near present day Rosiclare. They were headed toward Shawneetown when they reached Potts' Hill late in the evening. A gang of Sturdivant's compatriots had pursued them, however, and they'd just managed to reach Potts' Inn before being overtaken.
Hall and his men took refuge in Isaiah's home, and soon Potts' Inn was surrounded by numerous Sturdivant supporters. Isaiah and Polly's roll in this episode is not known, but it can be assumed that Polly and her servants dutifully fed the posse and prisoners. Isaiah, in all probability, had taken down his rifle to lend support to his beleaguered guests if the situation warranted. After all, he was the local Justice of the Peace. They passed a long and harrowing night, but apparently no shots were fired. By morning the outside guests had departed, and Hall and company proceeded on to Shawneetown with their prisoners unmolested.
The end of Isaiah's wealth, and decline in social standing, may seem to lend credence to the notion that his prosperity had been tied to that of the James Ford gang. However, Isaiah was bankrupt, his family broken up, and his inn business perhaps ruined by sordid rumors, preventing him from rebounding from the hard times that had come upon him. In short, after 1835, Isaiah seems to have been a ruined man. Regardless of character, when one, who was once prosperous, is found to be both landless and penniless, his social standing tends to wane. If there are rumors in circulation about that individual's past association with known outlaws, all the worse.
Remembering that his brother-in-law, Solomon Blue, had a hand in brokering Isaiah's extravagant settlement with Polly, one might also conclude that even that friendship had gone sour. Yet it would appear that Solomon remained a steadfast friend to Isaiah to the end. In spite of Polly's estrangement, and the suspicion under which Isaiah might have been regarded, perhaps Solomon considered Isaiah an unfortunate victim of circumstance.
In August of 1837, Solomon Blue had purchased Isaiah's former property from John Siddall and his wife Martha, for $180.00. Solomon then owned the property for six years, after which he sold it, in 1843, to Andrew and Thomas Tawzer for $1400.00. During those six years, Isaiah continued to live there. This would have been highly unlikely had Isaiah and Solomon not been on good terms.
Since Solomon sold the property for what might have been a realistic market price, it appears that the previous transactions had been among friends, and that Isaiah had continued to have an unofficial ownership interest in the property. In fact, since Isaiah seems to have departed the country soon afterwards, it is possible that Solomon may have shared some of the $1,400.00 with Isaiah according to an old agreement. This may have provided him a stake with which to move on to a new life in the west, or quiet retirement nearby.
Where Isaiah went after 1843, when he would have been about 59 years old, is still a mystery. Chances are, having lost all, and being regarded with continued suspicion, he felt he could do better elsewhere. Perhaps he moved westward where all trace of him has been lost in the vast new frontier of the day. Of course, it is possible that he died at Potts Hill some time after 1843, and is buried there. He may have moved back to Kentucky to live out his remaining days with his many relatives. It is also quite possible that he remained with relatives nearby in Illinois, and died there in obscurity.
The later alleged circumstances of suspicion of Isaiah and Polly often appear tantalizingly incriminating. Potts' Inn finally collapsed and was finally torn down in 1937 or 1938. According to Wellman, "...bloodstains a hundred years old were found in one of its rooms, evidently the murder chamber. And over the years ploughmen, turning the soil in what was called Potts' Old Field, have more than once uncovered moulding human bones, the relics of men killed and buried there in shallow graves." But the plausibility of such speculation seems questionable at best. Surely those hundred year-old blood stains would have been noted much earlier, and made the subject of criminal inquiries in light of the many allegations and suspicions we hear of today. The stains, if they were really bloodstains, could easily have dated from some time after Isaiah's departure.
Would not the uncovering of human bones have prompted official inquiry even a hundred years ago, if they were suspected to have been the bones of "white men"? Chances are, the bones were those of Indians. It must be remembered that Isaiah's property was on the site of an Indian village, and that the trail had been a "warpath" just prior to Isaiah's day, and Indian artifacts were rendered up in the area in great quantities during ensuing decades.
In any case, Isaiah's establishment was of sufficient notoriety that in 1854, J. J. Williams, moving with his family from Keysburg, Kentucky to Missouri by covered wagon, noted in his diary entry for October 25th:
"...We came to the foot of Patz' hill about ten o'clock; there is a house at the foot of the hill where legend says many a man has stopped for the night and never been heard of more. It looks like a place for deeds dark and dreadful. The hills and rocks around have a wild and fearful look about and seem to be a fit place for the ghosts of the murdered dead, to howl in. It may be fancy, but the house itself has a forbidding appearance, every shutter was closed but those that were broken off and looked like they might have been shut for half a score of years..."(Illinois History Internet web pages by Jon Musgrave)
This mention, some eleven years after Isaiah's disappearance, is possibly the only "official," and earliest, recorded mention of Potts' Inn's reputation to come to the attention of the modern world. It would seem to verify the legends of Potts' Inn with which we have become familiar, and demonstrates that Potts' Inn had an early reputation. But there is always the possibility that the inn's most sordid reputation was earned after Isaiah's departure. Nothing, for example, is known of the activities of the Tawzers, who occupied the premises after Isaiah's departure and are buried there.
There is no mention of the Legend of Billy Potts which, if it were then known, would certainly have been foremost in Mr. William's mind.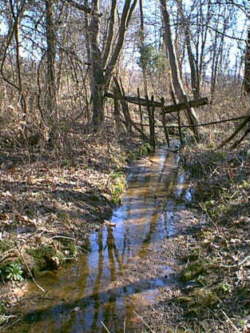 The Branch of Harris Creek that
Originates at Potts' Spring. The
spring is behind the photographer.

Doctor F. F. Johnson, author of the Life and Works of F. F. Johnson, first came to Illinois in the same year J. J. Williams crossed the state, in 1854. He crossed over from Kentucky at Golconda, Illinois, and trekked across Pope County in route to Benton, Illinois, to visit relatives, and later settled in Illinois. Johnson's book was published in 1913. Dr. Johnson relates a story he found interesting which he called "The Treacherous Hosts." It was set in a village on the coast of Normandy. (See Springhouse Vol. 14, No. 3, of June 1997) Except for the setting, and lack of names, the story is the same as that which later attached itself to Potts' Inn and became the Legend of Billy Potts. Had the Legend of Billy Potts been current at any time during F. F. Johnson's life between 1854 and 1913, he undoubtedly would have seen the similarity to the story he thought significant enough to put in his book, and would certainly have made mention of it.
A lengthy news article, dealing primarily with the Belt and Oldhams feuds of the 1870s (July 17th, 1879 issue of the Chicago Times, and reprinted in Vol. 21, Nos. 1,2, & 3, 2005 issues of the Springhouse Magazine), entitled "Hell on the Ohio, A Hardin County Picture," goes into considerable detail about the history of crime in Hardin County, Illinois. It refers to the county as the "cancerous part of the State." Most of the old outlaws are mentioned, including James Ford and several of his gang, but Isaiah Potts and his Inn are conspicuously absent from the account.
It does, however, mention that (James Ford) "kept a hotel, which is to this day thought of with horror by those who knew of it... Dead bodies were found near his house, and isolated and freshly made graves were discovered in that neighborhood. Men were known to start west with a little money to locate, and were never after heard of. Their friend would inquire, follow them to Ford's and there loose all traces of them..." These quotes seem so familiar that they might have been transposed directly into the Legend of Billy Potts by later writers.
If James Ford also operated a hotel, it has not yet come to this writer's attention. Perhaps the Times reporter was a little mixed up and the "hotel" he referred to was Pott's Inn. Yet it seems strange that a reporter who obviously researched the area's crime history, and spent considerable time in the area covering the Logan Belt murder trial and its background would have made such a glaring error or omission. But apparently the name of Isaiah Potts and his infamous inn were unworthy of mention in 1879 and unknown to the Chicago Times reporter. The article was written only about forty years after Isaiah's disappearance, and if Isaiah Potts had been an infamous name at the time, it would have undoubtedly have been noted.
Perhaps the earliest account of the Legend appeared in The Outlaws of Cave-in-Rock, by Otto A. Rothert, which was published in 1924, only a decade after F. F. Johnson' book. Rothert's source for the story is uncertain, but at some point it must have been picked up from local legend passed down for at least two or three generations. Or, it might have simply been invented — perhaps soon after F. F. Johnson's book (or another source of the story), suggested the plot.
The famous poem, "The Legend of Billie Potts," by Robert Penn Warren (published only a few years after Rothert's work), claims an independent source for the story told in his poem. In a letter, Mr. Warren told Ronald Nelson that he first heard the story from his great aunt Anna (Mitchell) Baker, and it was allegedly set in Kentucky between the Cumberland and Tennessee Rivers. (Springhouse, Vol. 2, No. 4, 1985) Warren had been unaware of Rothert's work at the time he wrote his poem. Presumably, Mrs. Baker would have heard it sometime in the latter half of the nineteenth century. This would seem to give credence to the story, but it doesn't tie in with Isaiah and Polly Potts and Potts' Inn. Apparently Warren did not tell how Mrs. Baker heard the story, where she lived, or whether it had been passed down in her family, or had been a local legend. Of course, as many have since assumed, the location may simply have been placed in error.
Isaiah's outlaw fame seems to have been gained on the coat-tails of James Ford's notoriety. Before the advent of the Legend of Billy Potts, there was apparently little note taken of him. In The Outlaw Years, the History of the Land Pirates of the Natchez Trace, written by Robert M. Coates, and published in 1930, James Ford is given a full page. Isaiah Potts and the Legend of Billy Potts are alluded to only in a footnote to James Ford, and then not by name:
"A great mass of legend grew up, for some reason, about Ford and his activities. Many of his gang figure in tales of which most are familiar variants of ancient bandit dramas — the highwayman who kills his wife by mistake in a hold-up, the robber returning in disguise who is assassinated by his father and mother, etc...."
Thus it appears that Coates was familiar with the Legend of Billy Potts, recognized the ancient script, and considered it unworthy of serious consideration. The story, in various forms and locales, has obviously migrated considerably. England, Normandy, Czechoslovakia, Kentucky, etc. Just when it migrated to Potts' Hill is unclear, but seems to have been some time after 1913.
In the History of Hardin County, Illinois, written for Hardin County's Centennial in 1939, the only mention of Isaiah, given as "Isaac," was with reference to his road supervisor appointment. There is no mention that he was one of the area's outlaws. Ford is mentioned, however. "...Old Ford's Ferry Road, where many a hapless traveler, crossing from Kentucky into Illinois country, met his fate at the hands of the notorious Ford's Ferry band of robbers."
But none of this spells certainty. It may be that there was a Billy Potts who was killed by his parents in the Land Between the Rivers in Kentucky, or elsewhere. For those who prefer to believe the legend is true, and that it occurred at Potts' Hill in what is now Hardin County, Illinois, there is still hope. The possibility cannot yet be totally discounted.
If Isaiah and Polly had had a son named Billy a year after their marriage, he would have been born in 1812. When Polly grew suspicious of Isaiah and left him in 1834, he would have been twenty-two years old. (Of course, he might have been born some years later, and thus still "little" in 1834.) It might have been that Billy had left as a young teenager and returned about 1834 at age twenty-two. During his absence, he might have been marauding with Murrell on the Natchez Trace. When he returned in disguise, he was killed for his bulging purse by his unsuspecting parents. Perhaps Polly had not participated in, or known of, the murder, but grew "suspicious" that Isaiah had murdered their son. Either way, the traumatic experience might have prompted Polly to leave Isaiah and extract a thousand dollars in extortion money to keep the matter quiet.
The sordid tale, thus suppressed, did not surface until decades later, with the locale changed to the land between the rivers to protect certain family reputations. Meanwhile, Isaiah had continued to occupy his home at Potts' Hill until his own conscience, and perhaps suspicions of other crimes, caused him to flee the area about ten years later.
But this is pure speculation of the variety necessary to bring plausible "history" into accord with what is most probably a legend without foundation in fact.
There are some other matters that provoke speculation with regard to Isaiah and Polly Potts. Most especially with regard to some events in the mid 1830s. For instance, it is interesting to speculate how Isaiah and Polly's apparent break-up in 1834 might have related to their two slaves. Ailsy was freed in that same year. It can be speculated that she accompanied Polly when she left her husband. On the other hand, Mary (a mulatto), wasn't freed until 1836. So Mary was possibly Isaiah's sole companion for at least two years after Polly left him. Could it have been that Isaiah found Mary attractive, and that the relationship had something to do with the breakup of his marriage? Could it be that there was more to Isaiah's relationship with Mary than anybody in the family would like to admit—then or now? Perhaps an untouchable subject, but it does have interesting possibilities, especially since there is at least one branch of the Potts family in Southern Illinois who are known to be descendents of slaves. Could Isaiah and Mary have been the source of this branch of the family? If so, this could be one reason why Isaiah has literally disappeared from both the family history and the public record. Isaiah would have been disowned by most friends and family alike. Likely he would have lived out the remainder of his life in the most object obscurity, hidden away from the world in a cabin in the woods either in Illinois or Kentucky or further west. This could be the reason that no family member, until now, has had the desire to uncover the details of Isaiah's career — it possibly being the unspoken consensus that even the Legend of Billy Potts was more palatable than this possible alternative. Of course, it must be remembered that this is just wild speculation, and the suggestion may constitute another outrageous injustice. If so, I regret having pointed out the possibilities.
There are other questions with regard to the emancipation of Ailsy and Mary in 1834 and 1836. Supposedly, slavery had not officially existed in Illinois (outside the Salt Works) after 1825, yet these emancipations of personal slaves are part of the Illinois public record. Was it necessary (or even legal) to emancipate slaves already free by law? Apparently so, though I have not investigated the legal nuances of the matter. Perhaps provisions were provided in law as a means of formally protecting former slaves from being kidnapped and resold into slavery down or across the river. It should be noted that it was during these years that the regulators were particularly active in attempting to rid the state of all Negroes. Emancipation papers would presumably protect free blacks who chanced to find themselves in states where slavery was still legal — especially those chased out of Illinois into Kentucky.
The known facts pertaining to the life of Isaiah L. Potts, indicate that he was among the earliest pioneers of Illinois, and a man of energy and ambition. There is no doubt that he occupied a position of prominence, trust, and respect in his community. On this basis, he is an historical figure well worthy of note, and a credit to his family as well as the nation. On the other hand, if he was guilty of any of the crimes legend alone has attributed to him, his reputation stands compromised. But, thus far, there is no evidence that this is the case. In any case, in the court of inquiry of my own mind, I acquit Isaiah on every count legend has lodged against him. As for the Legend of Billy Potts, it will live on as local folklore regardless of what historical scholarship happens to reveal to the contrary.
May 2001
Updated December, 2004
---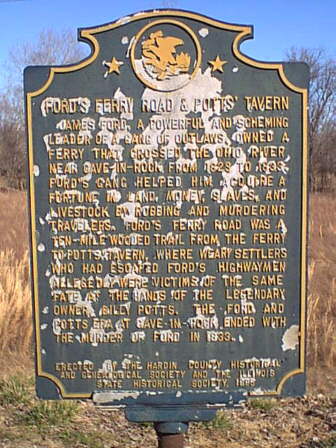 This historical marker "disappeared" in 2003. This seems to be the story of more than one of our historical markers commemorating notorious outlaws and gangsters.
Acknowledgments
Special thanks to Joseph W. Potts, the uncle responsible for whetting my genealogical interest in the Potts family, and who has provided much valuable information; my friend Gary DeNeal; Editor/Publisher of Springhouse Magazine; Ronald Nelson, local historian and Springhouse contributor; and those many others whose writings I have consulted in my search for the story of Isaiah L. Potts.
---
References and Additional Resources
Springhouse Vol. 2, No. 3, 1985
Springhouse Vol. 2, No. 4, 1985
Springhouse Vol. 4, No. 3, 1987
Springhouse Vol. 5, No. 6, 1988
Springhouse Vol. 7, No. 5, 1990
Springhouse Vol. 14, No. 3, 1997
Springhouse Vol. 14, No. 4, 1997
Springhouse Vol. 15, No. 1, 1998
Springhouse Vol. 15, No. 2, 1998
Springhouse Vol. 21, Nos. 1,2, & 3, 2005
Springhouse Vol. 25, No. 4, 2008

The Life of Davy Crockett, Crockett's autobiography.
History of Union County Kentucky, 1886, (republished 1967)
The Life and Works of F.F. Johnson, by Dr. F.F. Johnson, 1913
The Outlaws of Cave-in-Rock, by Otto A. Rothert, 1923
"Ballad of Billie Potts," by William Penn Warren
The Outlaw Years, the History of the Land Pirates of the Natchez Trace, 1930, by Robert M. Coates
History of Hardin County, Illinois, 1939, by The Historical Committee for the Centennial
The Devil's Backbone, The Story of the Natchez Trace, 1962 by Jonathan Daniels
The Devil's Disciples, and Spawn of Evil,1964, by Paul I. Wellman
Cavern of Crime, by Judy Magee, 1973. Published by the "Livingston Ledger," Smithland, Kentucky.
The Quiet Rebels, The Story of the Quakers in America, 1985, by Margaret Hope Bacon
Murder in Little Egypt, 1998, by Darcy O'Brien
J. J. William's diary, 1854 and Illinois History web pages by Jon Musgrave)
Potts Family History compiled (1980) by Lt. Col. Joseph J. Reichel, (USAF Retired).
The Potts Family in Great Britain and America - Compiled in 1901, by Thomas Maxwell Potts. Internet.
Memorial of Thomas Potts, Junior, 1874, Mrs. Thomas Potts James
The National Blue Family Association Homepage, Internet ( http://members.tripod.com/blue_family/ )
Slaves, Salt, Sex & Mr. Crenshaw, 2004, by Jon Musgrave http://www.illinoishistory.com.

See Isaiah's genealogy
See Polly's genealogy
---
Your are visitor number since 5 May, 2002. Thanks for visiting.

Thank you for visiting.