On August 21st, 2009 we received word from "former" owner, Bo Hanna, that Morning Star has been sold and is on her way the Charleston, S.C. The new owner has sailed on Morning Star, many years ago, as mate, under her former owner Phillip Major. We hope this means Morning Star is on her way to recapture her former glory, and are in hopes of hearing from the new owner soon.

We heard from Jeff Tracy on March 30th, 2010. He had an engine breakdown on the way to Charleston, and has since rebuilt it. When it is reinstalled, the restoration will begin. We wish Jeff all the best.

Another sad note. We regret to report that in early in 2016 we learned that Morning Star owner, Jeff Tracy, had passed away due to a job related accident. As of June 23rd, 2016, his family is offering Morning Star for sale: Asking $25,000.00!
For more information, contact: Stuart Tracy
843-870-7922
Stuartmtracy@gmail.com
See the story of Morning Star, below.

TRAGEDY AND HOPE
The story of Morning Star must be one of those under the "Tragedy and Hope" heading. Unfortunately, we don't have much of the story. We know she had been built by American Marine Limited for Clyde B. Gordon, and was sold to Philip S. Major, of Essex, Connecticut in 1967. Later, she was owned by Laurence Crooks, of Florida, who apparently purchased her from Mr. Major. Her U.S.C.G. registry was dropped and she thereafter flew the Canadian flag.
Perhaps in the 1980s or 90s she underwent a complete restoration, by Laurence Crooks, at the Karl-Crooks Boatworks in Bellingen, NSW, Australia, as evidenced by the Karl-Crooks Boatworks web site. No date of the restoration is given on the site.
Tragedy enters the picture when we find that after that great restoration job, Morning Star fell on a long period of hard times. Back in Florida, she was neglected by subsequent owners, and, judging from the psychedelic color scheme in the cabin when Bo acquired her, apparently more or less turned into a "hippy boat." Finally, and incredibly, she was twice abandoned, and was finally given up for salvage!
The hope comes in when we learn that the present owner, Bo Hanna, saved her and has been working on her for about five years, though he only discovered her true identity about six months before writing us.
Bo sheds some light on Morning Star's period just prior to his acquisition, though she was then thought to be "a 1960 Korean ketch" which appeared on her North Carolina registration until Bo found out his boat's true identity.
...Another individual (a French/Canadian) approached him and was given the boat if he would (satisfy back marina bills and) take it away.
I don't know how much, if any, of this is true... I got the boat... (after) the French/Canadian... set sail for Canada and ran aground in the North Carolina I.C.W....
The French Canadian had made some very rough-shod emergency repairs to the boat before he headed up the I.C.W. toward Canada with her. After running aground, he came ashore on Roanoke Island in his kayak to find someone to pull his boat free. There he flagged down Bo Hanna who happened by with his trailered outboard motor boat in tow.
Bo pulled the Morning Star free of the mud, but when it was discovered that the rudder had apparently remained behind, the formerly lucky owner threw up his hands in exasperation and abandoned his prize to a very lucky Bo Hanna.
Bo knew he'd acquired an impressive boat, well worth saving, but he had no idea that he had a classic yacht until, in early 2007, somebody informed him that she looked like the Sea Witch featured on the pages of the Rudder Treasury. Armed with that knowledge, Bo soon found this web site.
He'd been fixing her up for about five years without knowing what the boat had formerly looked like. Among other things, he put Morning Star up in a local yard and made minor repairs to the hull planking and had her bottom professionally fiber glassed.
Bo has done a very good job of cleaning her up and has kept everything Spartan clean and ship shape. With the exception of tanks, salon table, galley sink counter (which had been removed), interior lead ballast, and main sail, just about everything is still there – and the Perkins 4.108 (51 H.P.), engine runs beautifully. He has been using Morning Star as an impressive excursion boat to take his wife and children for day trips in local waters.
Morning Star's only obvious diversion from other Sea Witch rigs is that her shrouds are fitted with turnbuckles rather than deadeyes.
Morning Star isn't quite what she used to be, but the essentials are all there to bring her back to her former glory. As an American Marine build, she was built of all the finest materials and ought to be good for another 45 years. Bo Hanna has done a great job in saving her. The next owner will still have a challenge, but also a wonderful opportunity. She could once again become the boat in the photos below.
Bo sold her in August of 2009 to an old Sea Witch hand, having sailed as mate on the Morning Star, many years ago, with then owner.

MORNING STAR IN HER PRIME

As Restored by Karl Crooks Boatworks
Karl-Crooks Boatworks
117-121 Hyde Street
Bellingen 2454 NSW Australia
phone +61 409030734
E-mail: contact@karl-crooksboatworks.com
http://www.classicboats.com.au/restoration.htm
---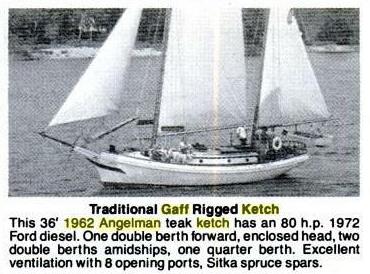 Ad from the July 1981 issue of Yachting Magazine.
Submitted by Stephen Carlson of the Sea Quest.
Believed to be the Morning Star.
---