The keel was lain for this page in late June of 2007 after we received an email from our friend, William Heritage, then owner of the Wilbo ketch Leeway. The Leeway design was a collaborative effort of Hugh Angelman and Dave Lee, and it was built by Dave Lee at Wilbo to be his own personal boat – the name perhaps being what is called a double entendre. Bill said:
"Have been in contact with David Lee Jr. and he has been kind enough to send me pictures of Leeway being built and several at anchor and under way. I am in the process of scanning them and would be most happy to share them with anyone that is interested. This should be a great opportunity for someone (writer) to get first hand information about WILBO. David has told me that Leeway had always had canvas decks and that the lead keel was made from scrap defective toy soldiers from a factory in the area."
We've acted on Bill's suggestion and taken the opportunity to begin a WILBO page, in hopes that it will develop into a comprehensive pictorial and written history of the famous boatyard where Sea Witch and so many other fine boats were built. Our thanks go to Bill Heritage and Dave Lee, Jr., for the photographs and information used to launch this page.
The photos initially shown below are heavily weighted with "Leeway" photos, taken both while under construction at WILBO and on sea trials. We hope to add more photos as time goes by.
For the written part of the history of WILBO, I'm initially borrowing text from our Hugh Angelman biographical sketch page. Information will be added as it is received, or gleaned from other sources.


Dave Lee (right), Dave Jr., and wife, Eleanor, abt. 1950
Leeway under construction. Sea Queen can be seen in the center photo. At left, 2 page article about Sea Nymph from Oct. 1938 SEA magazine
Above photographs and article from Dave Lee, Jr.'s collection – compliments of William Heritage and Dave Lee, Jr.
In September of 2008, Barbara Medders, daughter of Willard Buchanan and sent the following images. It was with Willard that Hugh Angelman built his first boat, and Mr. Buchanan spend many years with Angelman at Wilmington Boat Works.
Of her father, Barbara wrote, "He was very proud of the Sea Witch and also his part in building the Bounty. (See Bounty below.) The article about him was written in the 1920's. I'm sure there is an article about Hugh Angelman in the same collection.
"My father and I used to sail off of Portuguese Bend when Angelman lived there. Angelman liked to watch us from his living room with binoculars. Mae Angelman sailed with us many times too."

Willard was Hugh Angelman's original boat building partner and long time WILBO hand.

Above photographs and article from History of the Harbor District (Los Angeles) – compliments of Barbara Medders, Willard Buchanan's daughter.
---
OUTLINE OF WILBO HISTORY
In 1919, Hugh and a friend, Willard Buchanan, teamed up and built a boat on the Los Angeles waterfront. This successful project attracted the attention of a wealthy man named Tom Smith. Tom liked what he saw well enough to advance them the money to build a boat for him. Not only did Hugh and Willard build the boat in a surprisingly short time, they built two of them! Smith took one, the "Little Warrior," and the other, "Deep Water" became the Angelman family boat.
Smith was so impressed with Hugh and Willard's accomplishment that he provided them with the financial backing to launch Wilmington Boat Works in 1920. And thus began the career that would produce an impressive array of some of the finest sail and power boats ever built.
One of Mr. Angelman's earliest projects at Wilmington was the 40 foot motorsailer, Jubilo, a schooner designed by Charles D. Mower, and built in 1920. One of Jubilo's earliest owners was James T. Dickson, a member of the Catalina Island Yacht Club, who owned her during the 1920s and 30s. He sailed her in the TransPac and other races during that period.
The Jubilo is still in service today, and she's obviously looking very well for her almost 90 years afloat. She's home to her present owner at Sitka, Alaska. This is a great attestation of the quality and enduring nature of the boats produced at "Wilbo," as the yard became informally known.
Recent photos of Jubilo, contributed by Richard Bjorum, who is doing research on Jubilo. Anybody with information, or older photos, may contact him at: rbjorum@frontiernet.net

By 1922, Wilbo had been successful enough to requiring more room, and it moved to its final location on the Wilmington waterfront East Basin. Under Smith's direction, Angelman and his crew built two houses on the property, one for Smith, and one for Hugh and his family.
While Hugh was becoming a master boat builder, he developed his natural boat designing talents – and though he built an array of boats designed by other famous designers of the day, some of his own designs became famous in their own right. Over the years, the list of Angelman designs grew to an impressive length, of both power and sail vessels of all types and sizes.
Angelman designed and built a yard office in the form of a sailing ship's great cabin, and this unique "office," which had a fully outfitted galley, became a waterfront institution in itself. Friday evening gatherings at the Wilbo office – for business, camaraderie, and a good meal – became a tradition. Tom Smith himself served as chef, and the "ship room" hosted an array of guests that included the worthy yachting and boat yard fraternity, along with occasional Hollywood celebrities.
The Hollywood connection contributed to Wilbo landing the job of building the 36 foot replica of the HMS Bounty, for the 1935 movie, Mutiny on the Bounty, staring Charles Laughton and Clark Gable.

The Wilbo crew worked feverishly around the clock to complete the project in only three weeks, and were later appalled to watch it wrecked and burned to the waterline in the movie. Full sized ships were used in most of the movie, and the Wilbo model was considered expendable (see: http://www.winthrop.dk/bounty).
Hollywood celebrities became some of Wilbo's most notable customers, and Spencer Tracy, Dick Powell, John Wayne, Ernest K. Gann were among the movie luminaries to have boats built by Hugh at Wilbo.
Hugh Angelman's reputation and professional success, of course, owed a lot to his business partners, several design assistants, and skilled and dedicated workers. He was skilled at choosing the right people for the job, and many unsung helping hands quietly contributed to both the success of the yard and the Angelman phenomena.
Among them were Willard Buchanan, Vic Ward, Nick Potter, Harry and Bob Carlson, Dave Lee, Merle Davis, and Charles Davies – designers, loftsmen, patternmakers, and shipwrights – to name only the most prominent. Perhaps the most recognized of all (at least to Sea Witch devotees), was Angelman's protégé, and most prominent long-time design partner, Charles Davies.
Others played a role, learned, and moved on. The noted yacht designer, Alvin (Al) Mason, with more than 160 designs to his credit during his 60 year career worked at Wilbo. Among his earliest designs was the famous schooner, "California" which he designed while at Wilbo. Though the "California" was not built by Wilbo, Mason designed some of Hugh's boats, including a 36 foot ketch, designed in 1929, which might be considered one of the stepping stones toward Angelman's ideal in a small cruising boat. It was very similar to Sea Witch in basic dimensions, had a clipper bow, and raked masts.
We heard from Al Mason's daughter, Anita, in October of 2008. Excerpts from her emails make for an interesting and informative addition to this history:
...In 1928 when my father was 16-years-old, Angelman hired Al for the summer as a shop helper and draftsman. A number of the publication reviews of Wilbo boats were drawn by my father.
After my father graduated from high school in 1929, Angelman hired my father full-time to work at Wilbo. He worked there for less than a year but was responsible for about half a dozen designs during this period. He was also loaned out to Nick Potter and Ed Schock as a draftsman.
While at Wilbo my father was hired by Lambrie & Mabry but lost the job three weeks later because he didn't know how to design in steel. Mabry had attended Webb Institute in New York and told my father about the school and their program.
My father returned to Salinas to bone up for Webb's entrance exam and was accepted as a member of the 1932 Class. After Webb my father went to work for John Alden, then Sparkman & Stephens, Phil Rhodes...

By the way, one of Wilbo's ships' carpenters was a man named Captain John Polkinghorne. He asked my father to design a 63-foot schooner for him when my father was 16-years-old. Several years later Polkinghorne built the boat and named her "California."
I have a letter from another of Wilbo's shop workers asking my father to design some small boats for the yard workers to build for themselves. That was the genius for a series of "how-to-build" designs published in a West Coast boating magazine.
Back in the day, any reject lumber from a yard build was free to the workers to take home to use to build their own boats. The particular worker who wrote to my father had stockpiled enough lumber for a small boat but needed a basic design for a small boat

...

I've been organizing material on my father's early life, and realized the attached design (see graphic link below) is related to your boat. This was the third design my father... created for Wilmington Boat Works and was drawn in 1929. I have the original drawings in my files.
This design, which I call "Wilbo 36" is the approximate length and beam of your "Sea Witch" but has a very different raked bow and the accommodations are arranged quite differently. I haven't a clue if any boats were built from this design but I thought you might be interested in adding it to your collection.
I just checked my files and there is no lines plan for this design, however, there is another very similar design labeled as a "40-ft. Auxiliary Ketch" which does include lines. I haven't had this design scanned yet but it appears to look very much like your "Sea Witch." This design, also drawn by Al Mason, dates from 1929.
While stating on the drawings that they were designed by Wilmington Boat Works, Inc., my father signed the design as well. The fact that my father has the original linen & ink drawings indicate it was his personal design.
My father had the habit of keeping all original linens of designs he created and blueprints of all other designs he had a hand in creating, such as Alden, S&S, and Rhodes designs.
I have a suspicion your "Sea Witch" was based on a very early Al Mason design. My father was only 17-18 years old when he created the 40-ft. design..

Sincerely,
Anita C. Mason

Though a success from the beginning, Wilbo experienced its share of business ups and downs during its long history. It prospered, fell on hard times, and prospered again, producing fine sail and power yachts of every step of the way. Lacking orders, there was usually at least one boat being built on speculation to provide work for the men. They never failed to sell, and sometimes got the yard out of a financial bind.
During Prohibition, fast motorboats were in demand. Law enforcement required fast boats to overtake the bootleggers, and the bootleggers needed fast boats to outrun the revenuers. And Wilbo was pleased to satisfy the demands of both markets. The photo below shows one of the types that the bootleggers might have favored. This is the "Flash" owned by Bob Carlson from 1953 to 1956.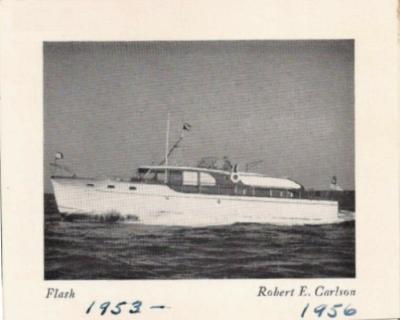 From Bob Carlson's Scrapbook. Contributed by Robin (Carlson) Miles
In 1937 Hugh designed what many consider the crown jewel of his career – the 35 foot, gaff rigged auxiliary ketch, Sea Witch. He designed and built it for himself with an eye toward safety, comfort, and the romantic tradition of the great clipper era – undoubtedly naming it for the famous China tea clipper of that name. She was completed in 1939, but it caught the eye of an eager buyer and Hugh let the Sea Witch slip from his grasp.
Realizing his loss, Hugh built another exactly like it – the Sea Rover – which was completed in 1941, just before the Navy came knocking at the beginning of World War II. The Sea Rover remained the Angelman's personal boat for over two decades, until Hugh was forced by old age to retire from active boating.
In May of 2011, Glenn Kim, owner of Serenade, sent us these photos of his boat. Serenade is a 61' sloop built at Wilbo in 1938 to a design by N. Potter for Jascha Heifetz.
Left: Serenade ready for launch, June 2, 1938.
Right: Right: Undated, "Summer evening in Maine."
Glenn tells us of two other Wilbos of similar size and design – "Chubasco (located in Newport Beach) and Santana (located in San Fran). These were among the largest sailing yachts built at Wilbo pre-war and the fact that are still with us today is but another testimony to the both the stewardship of owners as well as the soundness/quality of Wilbo built vessels.
During the Second World War, Wilbo was requisitioned by the Navy Department for the duration, a circumstance that Hugh hardly relished. Hugh helped design, and the yard built a variety of FT boats, minesweepers, and sub chasers throughout the war years.
Among Wilbo's Navy builds were a 96 foot Harbor Tug, an 85 foot rescue boat, eight 136 ton sub chasers, and eight 780 ton minesweepers, including the USS Inflict (MSO 456) shown below. (See: http://shipbuildinghistory.com/history/shipyards/5small/inactive/wilmington.htm).
We heard from Robin Carlson Miles, daughter of Robert E. (Bob) and "Bobbie" Carlson, in May of 2009. Robin remembers Wilbo fondly, having spent a good deal of time with her father there when she was a young girl. She has contributed some photos and a copy of the Wilbo newsletter which covered the christening of the USS Inflict, at which ceremony her mother acted as sponsor.
Finding this web page, she says, brought back many memories to her, and she also had a great surprise – learning, for the first time, that her father had been married to Mae Angelman prior to marrying her mother. Below are some of Robin's comments.

WILBO REMEMBERED
By Robin (Carlson) Miles

As I am alone, my fondest memories were with my "Pop" at the yard. That seems to be what I have thinking about most lately. Those times at Wilbo were the happiest in my life. I still have photos of me as a young child playing at the boatworks as I loved it – both at Wilbo and also at Lido Shipyard.
I don't remember a room specifically called the 'ship room,' but my favorite place as a child was the general supply room with all the rope, varnish, etc. I was always a hardware store girl.
Unfortunately, as my parents were divorced at the time of my dad's death, my stepmother took almost all of the photos, and, with the exception of the USS Inflict ceremony, most of my remaining photos were of Lido Shipyard in Newport Beach. But those are my happiest memories of all, down at the yard. I was a tomboy much to my mother's chagrin and 'Pop' took me to the yards from the time I was about 4.
While going thru the pics the other day, I found a picture of me coming down from the upper deck of a big boat at about that age.
When Pop raced the Transpacs my mother and I always flew to Honolulu to meet him coming in. We stayed at the Royal Hawaiian there where everyone knew us.
We met Johnny Weissmuller over there and he taught me to surf. And then of course during the infamous Catalina rendezvous we all met every 4th of July where Ward Bond taught me to fish. I have pictures of him coming to wake me up in his dingy at 5 a.m. So I have a lot of fond memories but they extend mostly past Wilbo and into Lido Shipyard. Just as many famous people who were so much fun and such beautiful yachts.
I am looking to see if there are any Carlsons remaining. I don't remember any aunts or uncles, and as I didn't know pop was married before my mother, I have lots of questions.
I had no idea my dad was married to Mae Angelman before my mother, and I'm wondering if there are any other Carlson family members left. Right now I believe I am the only one, and at age 60 would like to know if I am not alone.
I would love to hear from anybody on the subject of Wilbo and Lido shipyards, as well as anybody who may know if I have any Carlson relatives left. Please email me at: todayrim@charter.net

---

Photos Contributed by Robin (Carlson) Miles

Top row and first two in second row: The WILBO Log commemorating the October 16th, 1953, christening ceremony of the USS Inflict.

Middle right: A young Robin Carlson on a large wooden vessel at WILBO.

Bottom row: Bobbie, Bob and Robin at the pyramids. "Pop" was on a teak buying trip so we went around the world. This was 1959. Middle: Bob and Robbie Carlson. Right: Bob and daughter Robin outside Bob's last home in Costa Mesa, shortly before he died at age 60 in 1965.

Hugh had gained the reputation of being one of the finest designers and builders of the times, and in spite of his dislike for Navy work (or perhaps, because of it), he was "chosen by his fellow West Coast shipbuilders as their arbitration representative to the United States Government."
Though he was quite willing to do his patriotic duty, being under the managerial control of naval brass and government bureaucrats seems to have entailed more headaches and frustrations than rewards. At one point he sent a letter to a friend expressing some of his frustrations. A single paragraph just about sums it up:
We are building the ship with a deck load of Gold Braid, a bottom planked with creditors and a cargo of confusion. However, we walk the quarterdeck with a determined stride and steer a straight course, although the compass goes around with the sun. It seems a long and devious route must be sailed before we fetch up in Catalina Harbor, so we are carrying on.

Untiringly yours,

Hugh
The Mudflat Philosopher
In 1945 Hugh turned management of Wilmington Boat Works over to his former son-in-law Bob Carlson (who had married, and later divorced, his daughter Mae). Though divorced from Mae, Hugh continued to look upon Bob as a son. At about the same time he sold his interest in the business to William L. Horton, and finally retired from active boat building, though he remained closely associated with the yard, more or less in the capacity of a consultant. He often visited Wilbo to inspect the progress of Angelman designs the yard continued to build.
Wilmington Boat Works was a full service yard, complete with it's own casting foundry and machine shops. It built just about everything that went into its boats except the engine. It had become a big incorporated business during Hugh Angelman's tenure prior to World War Two, and it became even larger during the war years. It's Navy contracts continued after the war and it remained a large presence on the waterfront under Bob Carlson, with a full scale corporate organization, including a dispensary, and it's one corporate publication, the "Wilbo Log" (A few pages from Volume II, Issue No. 6 shown below. Click thumbs for larger view.)
Readers who have something to contribute to this page, please feel free to send photos or additional information to: webmaster@heritech.com.
---
Source and Contributor References
"The Grand Old Man of Pacific Yachting, the Enduring West Coast Legacy of Hugh Angelman" by Robby Coleman with Thomas G. Skahill, and "Pure Sea Witch" by Robby Coleman – WoodenBoat, No. 147, Mar/Apr 1999
The "Residential History of Portuguese Bend, Rancho Palos Verdes, Los Angeles," by Connie Luffkin. (http://www.geocities.com/pbchost/History/history.htm)
A short biographical sketch posted on the Naples (Florida) Sailing & Yacht Club website: http://ouryachtclub.memfirstweb.net/Club/Scripts/Home/home.asp
"History of the Harbor District" (Los Angeles), by Ella Ludwig. Page 456, "Willard Buchanan," was contributed by Barbara (Buchanan) Medders.
Photo credits: Dave Lee, Jr., William Heritage. "Wilbo Log" images provided by Dave Lee, Jr., and the photos of Willard Buchanan were contributed by Barbara (Buchanan) Medders.
Photograph of Willard Buchanan, and article from History of the Harbor District (Los Angeles), were contributed by Barbara Medders, Mr. Buchanan's daughter.
Photograph of Al Mason and image of the "Wilbo 36 Ketch," along with information on Mr. Mason's association with Wilbo, were contributed by Al's daughter, Anita C. Mason. See: http://www.a-mason-na.com/
Photos of Jubilo contributed by Richard Bjorum, rbjorum@frontiernet.net.
Photo of USS Inflict: http://www.historycentral.com/NAVY/Inflict/Index.html
Photo of "Flash" and text and photos of "Wilbo Remembered" contributed by Robin (Carlson) Miles.
Photos of "Serenade" contributed by present owner, Glenn Kim.
---